Less than 48 hours till kickoff.
Kansas football kicks off in approximately 42 hours and gameday is officially a day away.  Thursday night, Kansas Athletics announced that Saturday's game is officially a sellout, making it the earliest sellout in the history of Kansas football. That's another great milestone for the program.
I'm still deciding what is bigger news for the program, the sellout or the new proposed suites on the east side of Memorial Stadium.
KUSports.com has the details of the plan. Essentially, Kansas Athletics is offering $40 million to Kansas academics so the athletics department can add in about 3,000 more people into the stadium. These seats will be premium seats, as they're in a suite. There hasn't been any official pictures or renderings shown yet, and when that happens, I will discuss it a little bit more.
====
Much as been said about the billboard put out about Charlie Weis, but this was much better.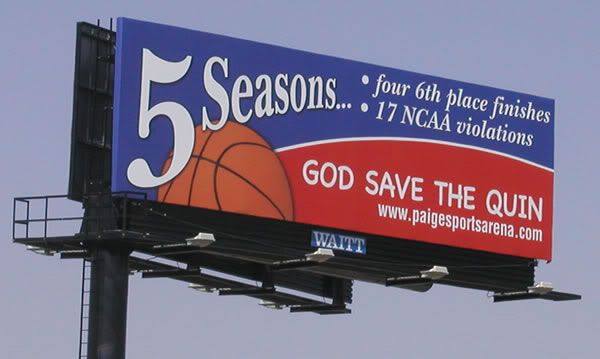 ====
I also saw this in Andy Katz's newest column:
"My condolences go out to former Missouri basketball coach Norm Stewart, whose 29-year-old granddaughter, Jennifer Stewart, was killed in a one-car crash at around 3 a.m. Sunday in Columbia, Mo. According to The Kansas City Star, services are set for 10 a.m. Thursday in Columbia. Norm Stewart, a cancer survivor who helped formed the Coaches vs. Cancer organization, has been through quite a lot in his life. Our thoughts are with him and his family."
I'd like to echo those condolences as well…
Sorry to end this on a rather sad note, but I'll be back Saturday unless something newsworthy breaks later today (Friday).