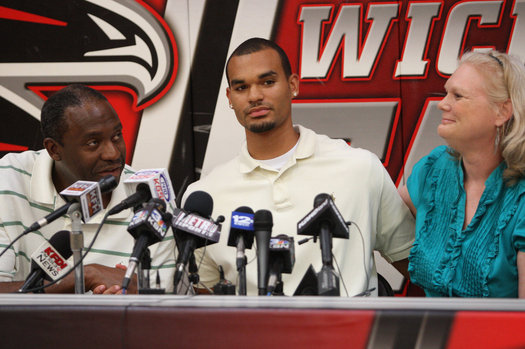 Perry Ellis announced his intentions of signing with the University of Kansas in the class of 2012 on Wednesday afternoon.
"At this time, I would like to decide that the school I will go to is the University of Kansas," Ellis said. "I just felt so comfortable there. That was the school."
Ellis, a 6′ 8″ forward out of Wichita Heights, is one of the top basketball prospects to come out of Wichita in years and was deciding between KU, K-State, Wichita State and Kentucky. Ellis is ranked No. 24 in Rivals.com and No. 37 in ESPNU's rankings for the class of 2012.
"Some people like to get away," Ellis said about Kentucky recruiting Ellis. "I wasn't like that."
"It's one of the top tradition programs," he said. "And I'm proud to be a part of it."
Ellis has led Wichita Heights to three Kansas Class 6A titles and looks for his fourth this season. He averaged 22.1 points and 7.9 rebounds as a junior.
Danny Manning, who has produced tons of NBA talent as a coach at Kansas, was key to Ellis coming to Kansas.
"He adores Coach Manning," Wichita State Heights Coach Auer said. "He watched how he handled the Morris twins. He was studious in watching how they developed."
"He's only going to make me better," Ellis said about Manning.
Ellis, who plans on being at Legends of the Phog this Saturday, will sign his letter of intent in November.