Reevaluating the Big 12 Conference
by Joe Davis (@KansasSports)
Kansas currently sits on top of the Big 12 standings alone, just like Bill Self and the Jayhawks have done the last seven years.
Yes, Kansas has manhandled Kansas State and Baylor in Allen Fieldhouse. But to win the conference for the eighth year in a row, Kansas still has a nine-day stretch in February that is going to be the toughest test this team has faced all season (and likely tougher than anything they will face in the Big 12 tournament and the NCAA tournament).
Here is the schedule for the rest of the season: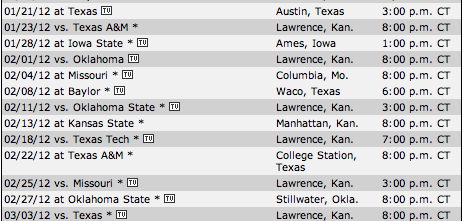 Road games are always going to be the biggest test in the Big 12. Allen Fieldhouse has the best home court advantage in the Big 12 and I believe KU finishes their home slate without any problems. The Missouri game is going to be tough but do you really think Kansas will let Mizzou win their last game in the Fieldhouse? No way.
That puts Kansas at 11-0 in conference (5-0 currently and 6 home games left).
Let's analyze the road games:
1/21 – Texas  — While Texas is having a down year, they're still very dangerous. I don't think Kansas will have any problems disposing of the Longhorns in Austin.
Expected outcome: W
1/28 – Iowa State –– This is going to be Kansas' toughest test on the road. Ames is always a tough place to play and the Cyclones gave the Jayhawks fits in Lawrence. I honestly believe Kansas was looking ahead to Baylor and they lost focus of what was important: winning the next game.
This team is best when it is focused and the Jayhawks will have four days to prepare for Iowa State and with the best coach in the conference, I wouldn't be surprised if Kansas beats the Cyclones by 20. However, Royce White is a monster and could easily keep this a close game.
Expected outcome: W
2/4 – Missouri — The last time Kansas plays Missouri in Columbia. While KU fans will point to the lopsided record, this is still one of the best rivalries in the nation because it really is just more than a game. Kansas shouldn't be ashamed to lose in Columbia and to a top 10 team (and could still be a top 5 if they beat Baylor on Saturday).
As Baylor realized on Monday, Kansas plays their best when they feel disrespected. If Missouri is ranked higher than Kansas in this game, this matchup will come down the wire. I still think Kansas drops their first conference game here.
Expected outcome: L
2/8 – Baylor — Kansas humiliated Baylor in Allen Fieldhouse. The rematch will be very interesting and could very well determine who wins the Big 12.
Expected outcome: L
2/13 – Kansas State — The Octagon of Doom always provides the toughest road environment for the Jayhawks on a yearly basis. Kansas State fans hate losing to the Jayhawks and I'm sure they'll still be fuming from their beatdown on January 7th.
Expected outcome: L
2/22 – Texas A&M — This game will be piece of cake compared to the road games at Waco, Columbia and Manhattan. No way the Jayhawks drop their final game in College Station. Especially since a lot of Jayhawk fans will be there.
Expected outcome: W
2/27 – Oklahoma State — Gallagher-Iba Arena is a tough environment if the Cowboys are good. The Cowboys aren't good this season. Bill Self has trouble winning here but this should be a piece of cake for the Jayhawks
Expected outcome: W
Wildcard Game:  I know I just called the Oklahoma State Cowboys terrible… However, when they come to Allen Fieldhouse on February 11th, Kansas might be caught off guard and drop an unexpected game in the Fieldhouse.
Look at the February schedule from February 4th (at Missouri), February 8th (at Baylor), February 11th (vs. Oklahoma State) and February 13th (at Kansas State).
That's an extremely tough nine-day stretch. If Kansas were to lose both at Missouri and Baylor, that game in Manhattan becomes the most important game of the season. If they were to overlook Oklahoma State (currently 9-8 and 2-2 in conference), it would most likely ruin Kansas' chance at winning the Big 12 for the eighth year in a row.
I can't imagine a scenario where Kansas comes out of the first half of February without a loss (or two).
—
The key for Kansas is to always focus on their next opponent. If they go into February looking ahead to another game, they can quickly spiral out of contention for the Big 12 title. I believe Kansas finishes with a 15-3 Big 12 record, which puts them at 25-6 on the season and most likely seeded as a 2-4 seed in the NCAA tournament depending on their Big 12 tournament performance (2 seed if they win the Big 12 tournament, 3 seed if they lose the Big 12 Championship game and a 4 seed if they only make it out of the 1st round).
Tyshawn Taylor seems to have finally turned the corner on this season, as he is just playing out of his mind. Perhaps his Twitter rant worked. If Taylor plays well, this team can do just about anything. Releford has become a nice scoring threat and has played consistent defense all season.
As long as this team stays focused, they have the build of a Final Four contender. And the first half of February will either show that or disprove it.
What do you think will be the final record for the Jayhawks in conference play?