Andrew Wiggins plays in open scrimmage
Today, Andrew Wiggins played in an open scrimmage at the Bill Self basketball camp. Wiggins, who played on the blue team, played just 14 minutes, but scored 7 points with a couple of dunks and hit one of his two three-point attempts. Overall, Wiggins was 3-for-7 from the floor.
The blue team, which consisted of all current players lost 61-66 to the red team, which were all alumni.
Wiggins dunked as Cole Aldrich backed off on this fast break:
On his dunk, Wiggins said: "It felt good. I let loose all of my nerves, so it was good after that dunk."
Another angle of his dunk:
Andrew Wiggins on Lawrence: "It's been a great vibe since I've been here. All the people of Lawrence have shown me nothing but love. I've been following the other players, seeing where to go, seeing how Lawrence is. It's been great so far. Everyone is loving, friendly. It's great getting to know people. I've been pretty comfortable here."
On being in Lawrence now, instead of being with the Canadian National team: "I know college is a big step from high school, so I just wanted to make sure I was ready for in. Coming here early would (make) higher my chances of being ready for college."
Here is Wiggins' other dunk:
Photo of Wiggins' dunk over Aldrich: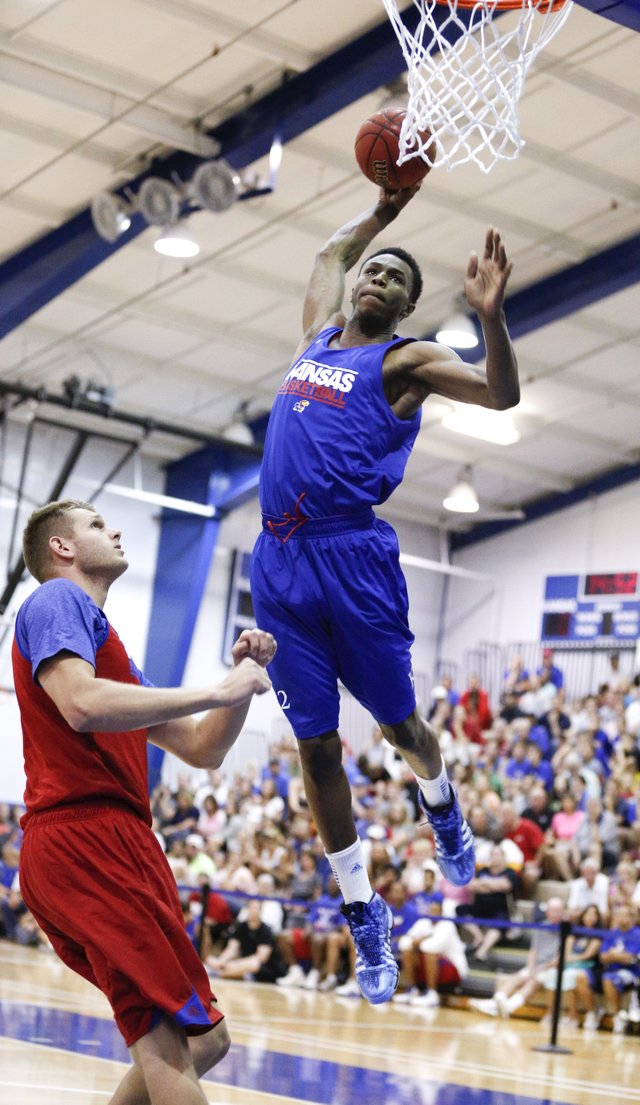 Full blue team highlights of the scrimmage here: