Brannen Greene visited emergency room for stomach soreness, anticipated to play Friday
Brannen Greene visited the emergency room Thursday night after getting hit in the abdomen during practice.
Greene tweeted at around 6 p.m. that he was in the emergency room: "The emergency room is definitely a place I don't wanna be at this very moment." The tweet has since been deleted but can be viewed below.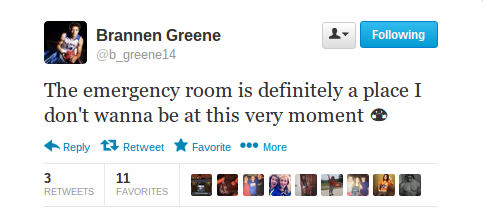 Coach Bill Self confirmed to the Kansas City Star that Greene visited the emergency room for stomach soreness and he should be fine.
Self told Gary Bedore of the Lawrence Journal-World that Greene is expected to play Friday against Louisiana-Monroe unless he experiences more pain:
"He got hit and had some pain. They ran tests and nothing came back. There's nothing there," Self said to Bedore, referring to injury. "He was released and we anticipate he'll play tomorrow (against Louisiana at Monroe)."
An eye witness in Allen Fieldhouse saw Greene leaving practice around 5 p.m, startling campers by slamming the metal sliding door that separates the concourse from the basketball court. Greene missed approximately 30 minutes of practice before returning and then leaving again.
The eye witness noted that Greene looked very displeased for missing practice time and slammed the metal door three times between 5 p.m. and 5:45 p.m. As previously noted, Greene was in the emergency room around 6 p.m.
Greene, the No. 47th ranked player in the 2013 class, was not expected to redshirt this season and could still have a major impact on the team as a part of Bill Self's rotation. In Kansas' first two exhibition games, Greene played a total of 23 minutes scoring 16 points on 5-for-9 shooting (5-for-8 from three).