Jayhawks in the NBA: Power Rankings — Week 6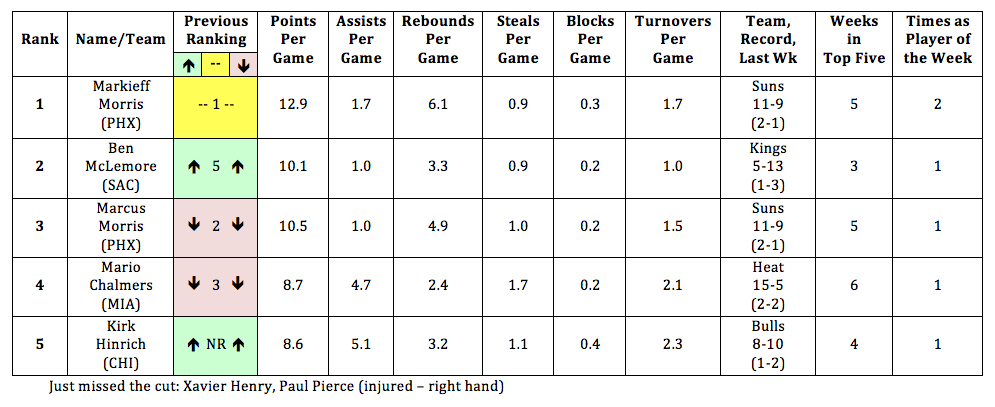 1. Markieff Morris – Markieff Morris would have been player of the week for week six if not for three factors. First, he played in three games this week, so his poor performance against Houston did more damage than McLemore's rough game against the Warriors (McLemore played in four games). Second, Morris' 10 turnovers over the past seven days were more than double the amount McLemore had, and McLemore played in one less game. Third, Morris didn't really have the power rankings' equivalent of a "Heisman Moment," while Ben McLemore had the play of the week (see below). While Morris did have 25 points and 11 rebounds against Toronto, what he didn't have was a game-winning/tying shot or a poster dunk. Regardless, Morris was quite good this week, averaging 14.3 points and 7.7 rebounds per game. Markieff Morris has stabilized after his up and down play over the first few weeks. However, he does have a new contender for the number one spot, who has dramatically improved from the beginning of the season when he was just number five on our list…
2. Ben McLemore – Ben McLemore… game-tying three… this isn't the first time those words have been used together in a sentence, and it probably won't be the last. McLemore has been fun to watch this year, as he has pulled up from well beyond the arc on multiple occasions, and he has lit up arenas with his jaw-dropping athleticism.  McLemore took about two games to adapt to the NBA style of play, and if you remove those two games, he is averaging 11 points per game in addition to 3.5 rebounds and exactly one steal per game. McLemore was recently awarded Rookie of the Month (for the Western Conference), although I would warn fans to not be overly excited about his rookie of the year chances as that race will come down to Michael Carter-Williams (PHI) and Victor Oladipo (ORL): both play in the Eastern Conference. However, McLemore is an exciting prospect, and the Kings are absolutely ecstatic that they were able to get a player of his caliber with the seventh pick in the draft. Oh, and let's not forget that he hit this game tying three-point shot against the Trey Burke and the Jazz (one year too late huh?) with three seconds left, in what would eventually be a Kings victory.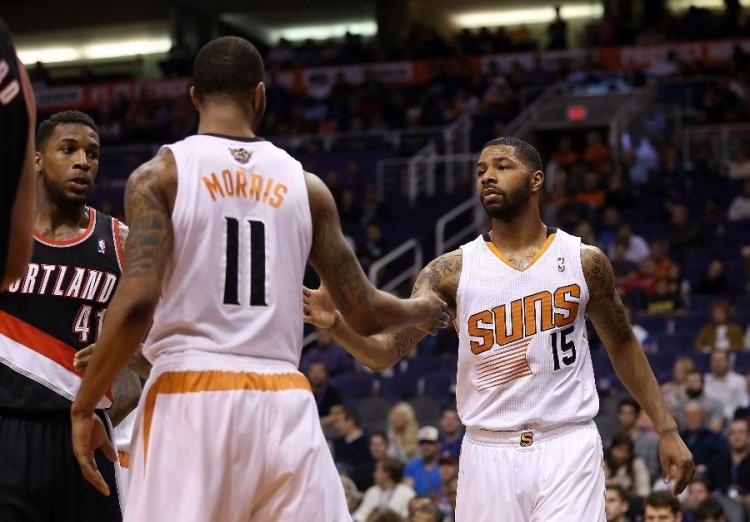 3. Marcus Morris – Marcus Morris (pictured above with his brother) was nice this week, but ultimately he fell a spot from last week's rankings due to the fact that McLemore was simply outstanding. Morris averaged 12.0 points and 5.0 rebounds over the last seven days, and had a total of just one turnover. In fact, prior to his turnover against Toronto, Morris had gone nearly two weeks (seven games) without committing a single turnover! Marcus Morris was also perfect from the free-throw line during that stretch. While Morris did see his streak of consecutive games with a three pointer end at 13 a couple of weeks ago, he has begun to build a new one, as he hit multiple three point field goals in every game this week. In fact, in three games Marcus Morris averaged 2.3 threes per game, and shot a blistering 54% (7-13) from beyond the arc. They younger Morris has been a bit of a pleasant surprise for the Suns, and he has been a big part of Phoenix's 11-9 start. He'll look to keep up his recent string of success against the Lakers and Kings this week.
4. Mario Chalmers – Mario Chalmers had a rough week, averaging just 7.5 points per game, which is 1.2 points per game lower than his season average. Additionally Chalmers shot poorly from the free-throw line (4-9, 44%) and the three-point line (2-10, 20%). Chalmers has now had two rough weeks in a row and could be on the verge of falling off of the list all together. Ultimately it will be "gut-check" time for the Alaska native, and he'll have three opportunities to prove himself this week. In fact, two of Chalmers' three games will be televised on NBATV, including a matchup against the other Eastern Conference powerhouse: The Indiana Pacers. Chalmers will then end the week facing off against Kyrie Irving, one of the best (if not the best) young point guards in the NBA. It should be interesting to follow Chalmers this week, as the Heat may need him to step up if they are to win  either of those games.
5. Kirk Hinrich – Kirk Hinrich made the return to the list after an up and down week. Over his first two games Hinrich averaged 13 points, 9 assists, 5.5 rebounds, and 1 steal per game, which is very much a model of his career (something I covered in the fourth week of the power rankings).  However, Hinrich had a rough game against Detroit, as he shot 1-10 from the floor (1-7 from three) and had five turnovers. The game was not a total failure for Hinrich, who also had four assists, four rebounds, four steals, and a block, but it did show that Hinrich clearly isn't the offensive threat that he has been in previous years, especially from long range.  After a tough week the Bulls have fallen to 8-10 on the season, but they will look to bounce back against Milwaukee (twice), New York, and Toronto over the next week, which could quite possibly mean the Bulls will end next week fresh off of a four-game winning streak.
—
PLAYER OF THE WEEK: Ben McLemore
While the hype around guys like Andrew Wiggins and Joel Embiid is all fine and well, the successor to the KU-Pierce legacy may very well already be in the NBA. Ben McLemore (pictured above) was really good this week, but he was truly outstanding in his last three games. In fact, in those three contests McLemore averaged 16.3 points, 6.0 rebounds, 2.7 assists, and 2.7 steals per game, while only committing an average of one turnover per game. McLemore has been super smooth as of late, scoring 14 or more points in five of his last six contests, as well as in six of his last nine games. McLemore is absolutely exciting to watch, and he may very well be the best Jayhawk in the NBA for years to come if he continues to improve at this rate. The first test for McLemore will be seeing if he can surpass Markieff Morris as the top Jayhawk in the NBA, as he looks to prove that he is not only the best rookie in the Western Conference, but one of the best young players in the entire NBA.
 —
Overall, we have seen some interesting storylines unfold, none greater than the battle between Markieff Morris and Ben McLemore for the number one spot on this list. However, Paul Pierce (pictured below) has certainly been to player to watch, as you might have noticed he fell off of the list this week. As a rule, I won't remove a player from the list solely due to injury, but Pierce's struggles have been well documented. Over his last 10 games Pierce is shooting a measly 28% from the floor, and in his last 11 contests, Pierce has shot over 50% from the field just once; additionally, Pierce had four turnovers in three of his last four games. This, combined with the injury, led to me dropping Pierce from the list until he returns and proves that he can play at a relatively high level. Another storyline to watch will be Xavier Henry's battle for playing time as Kobe Bryant returns to the Lakers' lineup, but you can read more about that below.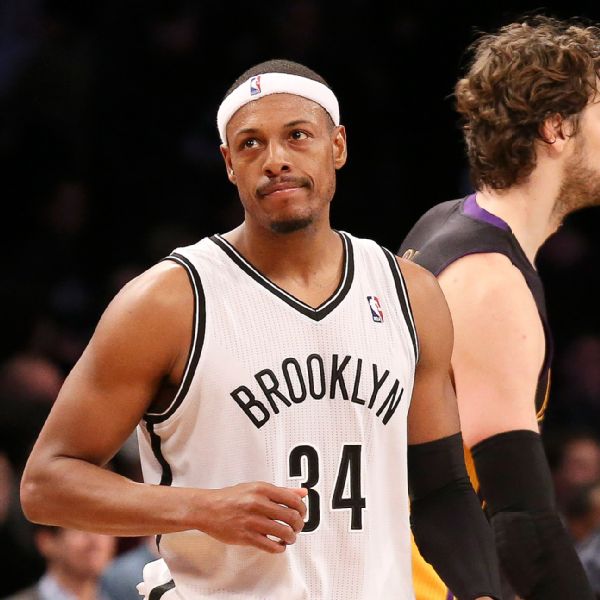 This week there are three games that I want to highlight as key contests. The first is Tuesday when the Suns will head over to the Staples Center in Los Angeles to play the Lakers. This game will be interesting for a few reasons, but perhaps the most unique storyline will come from the fact that it will be Kobe Bryant's second game back from injury. It'll be intriguing to see how coach Mike D'Antoni manages the minutes of Henry with his superstar shooting guard returning to the lineup, and it could mean that Xavier Henry will be looking to prove that he belongs on the court.  The second game to watch will be just three days later when the Suns take on the Sacramento Kings in Phoenix. Marcus Morris has averaged 16 points per game against the Kings, but Ben McLemore had an insane poster-slam against the Suns in an earlier meeting, dunking the ball over TWO Suns' big-men; this game will also be a battle between the last two winners of player of the week.  Finally, the last matchup will also be on Friday, when the Thunder take on the Lakers. In addition to watching Xavier Henry, this will be a good opportunity to watch Nick Collison who has put together a couple of good games as of late. This game will be on ESPN as well as www.WatchESPN.com, so there will be many ways to watch. Finally I will again leave all of you with a recap of the first six weeks, and as always, if you have any comments or question: please write them below or send them to me on twitter at @ScottChasen1994.