Jayhawks pick up football honors
Despite a disappointing season, Kansas football picked up a few honors the last week. It is good to see that some people paid attention to the talent that clearly shined above the rest in Lawrence.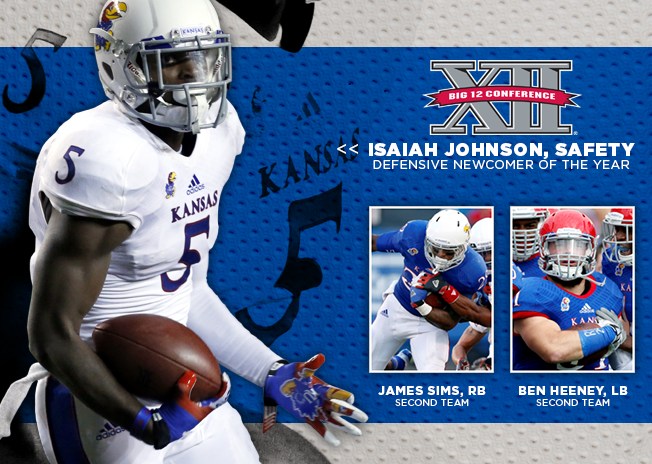 Perhaps the biggest honor was given to Isaiah Johnson, who was named the Defensive Newcomer of the Year on Wednesday. Johnson, who is a sophomore junior college transfer from Iowa Western Community College, had five interceptions (leading KU) and had 73 tackles on the season (second on KU). Johnson will be with the Jayhawks for another two seasons so he definitely solidifies KU's secondary, which performed well throughout the season. The last Defensive Newcomer of the Year for Kansas was Chris Harris in 2007. Harris is now on the Denver Broncos and is in line for a Pro Bowl selection.
On Monday, James Sims was selected to the AP All-Big 12 first team and Ben Heeney was picked for the All-Big 12 second team. Sims also received votes for Offensive Player of the Year. More from KUAthletics.com:
Heeney, a junior from Hutchinson, Kan., missed a pair of games in the middle of the conference slate but still finished with a team-best 88 total stops, including 11.5 tackles for loss and the first three interceptions of his career. Heeney, also selected as an All-Big 12 Second Team selection by the Associated Press Monday, was fourth in the conference with 8.7 tackles per game and ranked fifth in tackles-for-loss per game with 1.15. Heeney reached double figures in tackles in six of his 10 games played, including four Big 12 contests.

Sims, who was picked as an All-Big 12 First Team selection on Monday by a panel of media, was the Big 12's leading rusher in conference games with 92.1 yards per contest and finished the 2013 campaign with a league-best 1,110 yards overall. That mark made Sims the first player in Kansas history to rush for more than 1,000 yards in back-to-back seasons. Sims rushed for at least 70 yards in nine of 12 games this season, including a career-best 211 and three touchdowns in KU's win over West Virginia.

A senior from Irving, Texas, Sims closed his Kansas career among the leaders in several categories. Sims' 3,592 rushing yards rank third on KU's all-time charts, his 34 career rushing touchdowns is second, and his breakout performance against the Mountaineers was the 15th-best single-game rushing total by a Kansas player.
Additionally, these Kansas players earned All-Big 12 Honorable Mentions: Ngalu Fusimalohi (OL), Johnson (DB), Dexter McDonald (DB), Jimmay Mundine (TE), Trevor Pardula (P, ST PoY), JaCorey Shepherd (KR/PR, DB), and Sims (Off. PoY).