Jayhawks in the NBA: Power Rankings — Week 14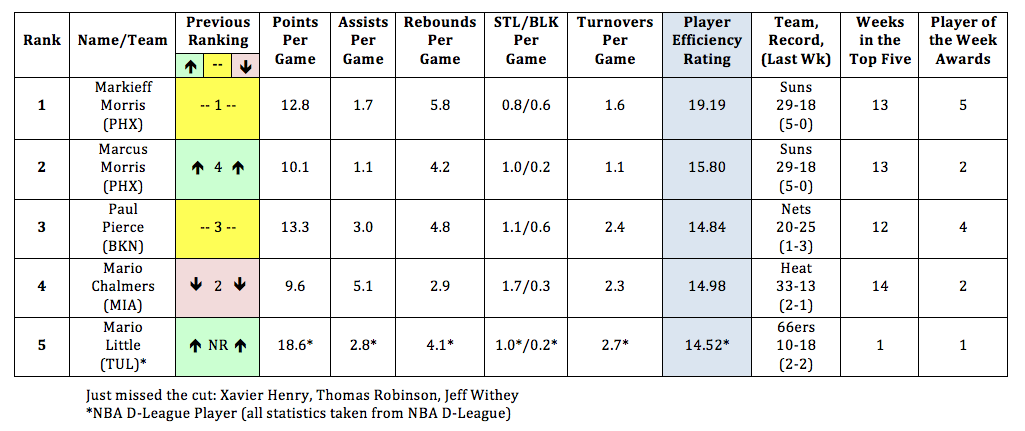 1. Markieff Morris – Markieff Morris has continued his fantastic run of play, and no Jayhawk in the NBA is hotter than him right now. The older Morris propelled the Suns to a 5-0 record this week, outscoring the margin of victory in every single game. Morris even had a 27-point game, which was just one point shy of his career-high, which also came this year (we'll have more about his great week below). Weeks ago, I talked about how the Suns would have to play without their star point-guard, Eric Bledsoe, and how it would allow the Morris twins to prove their worth. Markieff Morris has certainly picked up the slack, as he has scored 10 or more points in each of the last ten games, including four 20-point outings. Additionally, Markieff Morris has committed just one or fewer turnovers in 10 of his last 16 appearances. That's efficiency for you. Markieff Morris' PER has also risen to above 19.00 for the first time since Week 8. Morris now stands at 40th in the NBA in Player Efficiency Rating (11th out of all power forwards), which is quite a remarkable feat considering that it was just a few months ago that people were wondering about his role on the Phoenix Suns. There are no such questions anymore, as Markieff Morris has solidified himself as not only the best Jayhawk, but also one of the best power forwards in the entire NBA.
2. Marcus Morris – 1988. What happened in 1988? KU won a National Championship in basketball, and shortly thereafter, the Los Angeles Clippers selected Danny Manning with the first pick in the NBA Draft. Why am I bringing this up? Well the Morrii were born the very next year (1989), but what relevance does 1988 have? Well, in 1988 the movie "Twins" was released, starring Arnold Schwarzenegger and Danny DeVito. While Schwarzenegger is certainly more recognizable to today's generation, both actors were Golden Globe winners in their own right.  Now let's look at the Morris Twins. Markieff Morris is without a doubt the more developed player, and coaches around the league know they have to worry about containing him as the game goes on. While he may not have the exposure or presence of his older brother, Marcus Morris has been a standout player in his own right, the Danny DeVito to Markieff's Schwarzenegger.
Author's Note: There are other parallels between the movie "Twins" and the Morris Twins. The movie grossed 11 million dollars on its opening weekend; Markieff Morris wears number 11. Worldwide the movie made $216 million; 216 is the area code for Cleveland Ohio; Markieff Morris had his best career performance (27 points, 15 rebounds) against the Cavs. The movie received a 38% rating from RottenTomatoes.com; Marcus Morris was shooting 38% from the three-point line when he was traded to the Phoenix Suns. Now, I could state about fifty other obscure connections between "Twins" and THE Twins, but I won't waste your time with any more of that fun stuff (although I find it quite fascinating).
Now let's talk about the younger Morris' week. Marcus Morris averaged 11.6 points, 3.6 rebounds, and 1.6 assists over the past week (five games), while only committing three turnovers. Three! That's 0.6 turnovers per game. Just like his brother, Marcus contributed in each of the Suns' five victories with his efficiency, as he shot 55.3% from the field and 84.6% from the free-throw line. Marcus Morris has stepped up his game as of late, and it will be interesting to see how he plays moving forward as the Suns have a tough week ahead (including one game that will be on the "What to Watch for" segment).
3. Paul Pierce – Paul Pierce had one play this week that really summarized what this year has been for him. With almost no time left on the clock, Luis Scola threw the ball off of Pierce's back, allowing the clock to expire. Oddly enough, this was not the first time this happened to Pierce to end a game, just check out this video Furthermore, that last play was not even the only time Battier had done it to Pierce, just check out THIS highlight (and I do apologize for the quality of this third clip… it's quite awful). Pierce had a very interesting week, starting with a six-point performance (2-10 shooting), and then ending with three straight 10+ point/5+ rebound games. Pierce even had a 33-point outing against Toronto, but all of these "better" games had one thing in common… they were losses. This season Pierce actually scores nearly an entire point per game more in losses than wins; additionally, Pierce takes more shots in losses. Why, you might ask? When Pierce is running the offense the Nets really aren't that scary of a team. Truth be told (yes, that was a pun) Pierce isn't good enough to be the main force on his team, so when he has to (or at least feels that he has to) take over a game things normally aren't looking good for the Nets. In his older age the former NBA Finals MVP has gone from Hall of Fame talent to chemistry destroyer, as there really hasn't been much upside to Pierce's 2013-2014 campaign. It won't get any easier for Pierce as his Nets will be facing off against the San Antonio Spurs in the upcoming week.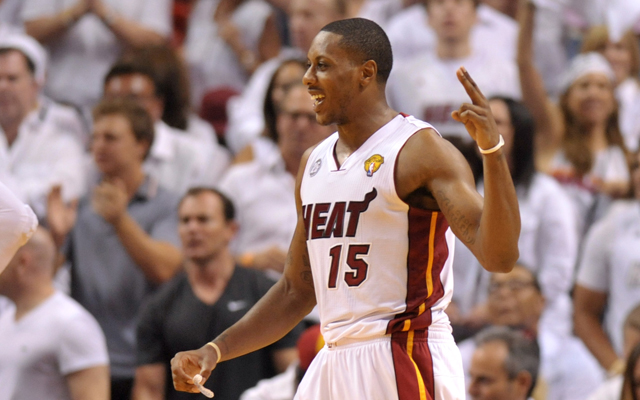 4. Mario Chalmers – Mario Chalmers (pictured above) put up some very good numbers this week, averaging 10.3 points, 5.7 assists, and 3.0 rebounds per game. It's really hard to associate Chalmers with a ranking, because he does play alongside the best basketball player in the world, which provides definite statistical benefits and drawbacks. Regardless, it's never bad to be leading in one statistical category: wins. The Heat are 33-13 (.717) this season, going 30-10 (.750) when Chalmers plays, but just 3-3 (.500) when he doesn't. Chalmers has continued to do exactly what the Heat have needed. With a Player Efficiency Rating of 14.98, Chalmers is just slightly below the league average, but considering that his performance was hurt by injury earlier this year, that number is nothing to scoff at. While there isn't much new with Mario Chalmers, I do want to talk about the Heat and their schedule moving forward, as they have some easier games ahead. This week Miami will face off against the Detroit Pistons (19-27) and Utah Jazz (16-31), who don't exactly boast the most talented rosters in the league. Chalmers will need to remain focused, as he has tended to excel against the bad teams in the NBA, which is likely attributed to the fact that some of the other players on his team aren't necessarily engaged in those games. If Chalmers can continue to take over down the stretch he may not only find himself higher on the list, but he may be adding another piece of hardware to his trophy case come this Summer.
5. Mario Little – Mario Little (pictured below) was absolutely… wait what?!? Mario Little? He doesn't even play in the NBA? What's he doing on this list? I demand a recount!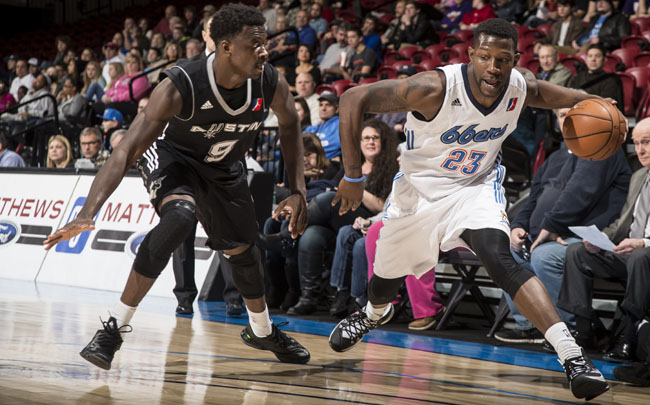 Now that's what I imagine the initial reaction to seeing Mario Little on the list this week should be (with a slight over-exaggeration), but truth be told, he's really earned it (and he's close to earning an NBA contract too). Mario Little was absolutely spectacular this week, and he also received some bonus points for his performance in what I selected as a key game in Week 13. Against the Rio Grande Valley Vipers, Mario Little led his team with 27 points, as the 66ers scored an astounding 144 points in regulation (franchise record). Additionally, Little had 10 rebounds and eight assists, while committing zero turnovers. None. Nada. Zilch. Zip. Nil. Coincidentally, zero was also the number of points scored by K-State's Jordan Henriquez in that game, but I digress. As Clark Kellogg would say, Mario Little was a "stat-sheet stuffer… SUPREME," as he also had a pretty remarkable highlight in that game… check out this assist…  I listed Mario Little's D-League statistics above, and they aren't really anything to scoff at. The fact remains that Mario Little is one of the best players in the D-League, and it won't be long until he has a contract with an NBA team.
—
PLAYER(s) OF THE WEEK: Markieff Morris and Mario Little
This is only the second time this season that there have been co-players of the week (the other time was in week four). However, two players were equally deserving of the honor this week. I'll start with Mario Little, considering that it is his first time winning this award, whereas Markieff Morris has won it FIVE TIMES now.
Mario Little was really smooth this week, averaging 22.3 points, 6.3 rebounds, and 3.0 assists per game, while shooting an remarkable 24-26 (92.3%) from the free-throw line. Little has been playing at an extremely high level and he is likely just an injury away from a call-up to the Oklahoma City Thunder, as the 66ers are their D-League affiliate. Mario Little has remarkably scored in double figures during 28 of his 30 appearances this season (counting preseason). At this pace you can expect Little to wind up with some more big performances (another pun… I'd say that makes me a solid 2/2), and he should be an interesting player to follow the rest of the year.
Now let's move to Markieff Morris, who has been an absolute monster as of late.  Morris put up 16.2 points, 6.2 rebounds, 2.0 assists, and 1.2 blocks per game, while committing just 1.4 turnovers per game. Morris shot 87.5% from the free-throw line and put up one of the best performances of his career as well. Against the Cleveland Cavaliers Morris scored 27 points on 16 shots, while managing to snag 15 rebounds. That's quite an impressive feat, considering that Blake Griffin (who is starting the All-Star game for the Western Conference at the power forward position) has not done that this season… or last season for that matter. In fact the last time that Blake Griffin posted that stat-line was against the New Jersey (yes, New Jersey) Nets, on March 7, 2012… nearly two years ago. This is the third week in a row that Morris has been the player of the week, and he doesn't look to be slowing down anytime soon.
—
Overall… this was a great week for the Jayhawks in the NBA (and the NBA D-League) or at least for the ones on this list. Ben McLemore and Kirk Hinrich have continued to struggle for various reasons, while Xavier Henry remains sidelined with injury. That being said, the Morrii have continued to excel. It should be noted that they have held two of the top three spots on the list for seven of the 14 weeks. Paul Pierce and Mario Chalmers continue to head in opposite directions, and we should be in for a treat to watch them perform after the All-Star break, with Chalmers playing for a new contract and Pierce (possibly) playing in the last NBA season of his career. There isn't much more left to say, so without any further ado, let's move on to the future…
—
What to Watch for: This week there are just two key games to watch, down from the typical three.  This first game will be Tuesday, February 4, as the Phoenix Suns will take on the Chicago Bulls. Kirk Hinrich will be battling to get back on the list against the Morris Twins, who stand atop it. The second matchup will be this Saturday, as the Utah Jazz will take on the Miami Heat. While it will be fun to watch Mario Chalmers square off against Trey Burke, another interesting player to watch will be Brandon Rush, as he has been playing more and more minutes as of late.  Oh, and the last time Chalmers played the Jazz he had 12 points and eight assists with a +/- of +19. Finally, I will leave all of you with a recap of the first fourteen weeks. As always, if you have any comments or questions please write them below or send them to me on twitter: @SChasenKU.