KSU creates t-shirt for celebrating regular season game
EDIT (February 12th): A lot of KSU fans are defending these t-shirts by saying the athletic department or the University didn't create these t-shirts. Yes, as I stated below, KStateGear.com created them. However, I decided to check out KSU's athletic shop on Wednesday night and they're selling these bad boys: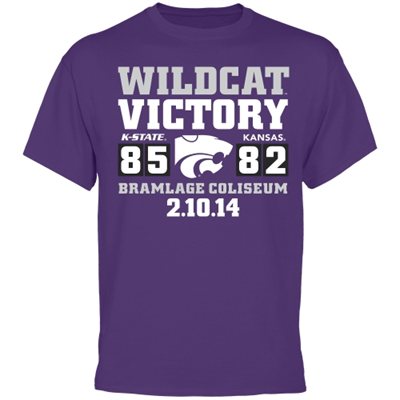 So… what's your excuse now, KSU fans?
—–
Original post: What better way to celebrate a regular season win over Kansas than with a t-shirt?
KStateGear.com is advertising these brand new t-shirts: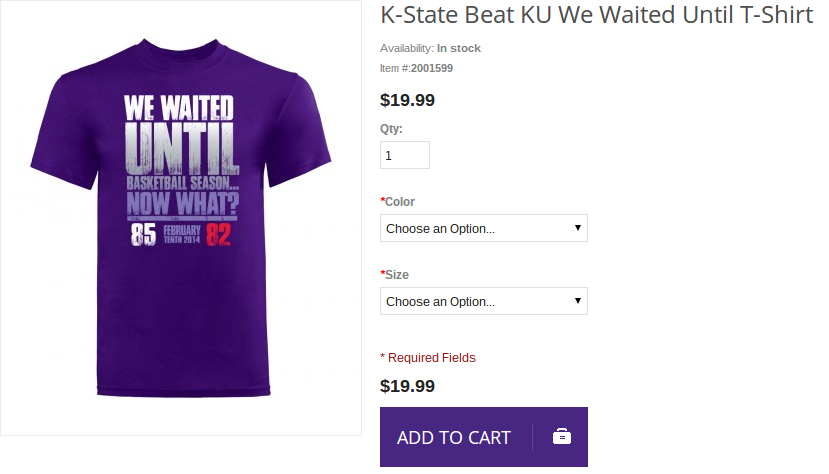 Be embarrassed, K-State fans.
But give KSU fans credit for a great court storming last night. After all, wouldn't you storm the court if that win accomplished all of this:
Ended a six-game Kansas win streak over Kansas State
Made the Jayhawks' all-time series record 187-92 against the Wildcats, including a 40-4 mark in the Big 12 era and 23-3 inside Bramlage Coliseum.
Made Bill Self 23-4 all-time against KSU (22-4 at KU)
Gave Wildcats' head coach Bruce Weber his first win against Kansas, now 1-5
Back in 2011, K-State auctioned off the net from the last time KSU beat KU. The net went for $370. They also made a DVD of the game.
But hey, it's not the Wildcats were Big 12 co-Champions last year or anything, right?