Q&A with Ryan Landreth — Host of the "Inside the Paint" Podcast
With the Big XII race heating up and the tournament approaching, I spoke with Ryan Landreth, host of the Inside the Paint podcast (which is in the top ten for College Sports podcasts on iTunes). You can download the show for free on iTunes here, and you can like them on Facebook at https://www.facebook.com/itpshow. Be sure to check them out, as they will have Rustin Dodd and Danny Parkins as guests in the upcoming weeks. You can follow Ryan on twitter here: @Ryan_Landreth.
—
Q: As the Big XII race comes to a close how do you feel about the Jayhawks' chances of getting that 10th straight conference title?
Landreth: I would say there is about a 25% chance that Kansas doesn't win the title outright and about a 10% chance of not winning a share of it. I think that the Kansas-Texas game at Allen Fieldhouse next Saturday is going to be key. The way it's broken down, if you look at Texas' schedule I think they'll lose two more, (at Kansas and at Iowa State). Assuming that happens, Kansas has to win their four home games and beat Texas Tech on the road. They'd be 14-4, which would give it to them. If Kansas goes 0-3 on the road in these last three games, they probably don't deserve to win it anyway, but I'm still pretty comfortable with their chances. Obviously I think a win at Kansas State would've probably put it away, but I'm still pretty confident that they'll get this thing done. I'm definitely trusting Bill Self over Rick Barnes, especially with a one game advantage.
Q: If you were coaching the Jayhawks, how would you handle the injury to Joel Embiid?
Landreth: Well you talk about how serious it is, I think that is obviously the factor. I think that Kansas could go through anyone with a healthy Embiid (pictured below). Without him we saw how effective they were, as Kansas State scored on every possession in overtime, and their maybe the 35th best team in the country. If I were Bill Self, now that Jamari Traylor is confirmed to be playing, I would definitely sit Embiid against TCU. There's no need; this is going to be a thirty-point game. If you can get him seven full days of rest, with Self saying he's already progressing, I would think he'd be good by the time Kansas plays Texas Tech. Everyone is chalking that one up as a win, as I was a week ago, but if they continue to win I don't think you can take them as a 'cupcake' team anymore. The win in Oklahoma was very impressive. I think that the goal should be getting Embiid healthy for that game. That's a game in theory Kansas should win by 15, but in this conference, who knows? So if I were Bill Self, which I'm obviously not for good reason, I would sit Embiid Saturday (against TCU). That being said, if they MRI says he's good, and if he says he's good, I don't know if there's enough concern to sit him.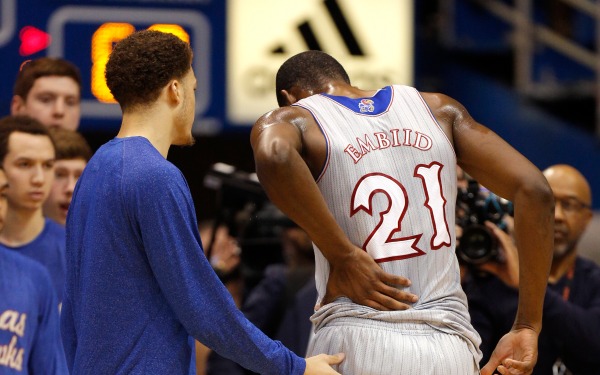 Q: If Joel Embiid does not play, what are the chances of Kansas losing to TCU? 
Landreth: Zero. If you want an answer I don't think it matters. There's always a chance, but I don't think there's any way Kansas loses to TCU. Last year it seemed like everything in the schedule worked against the Jayhawks. KU faced a team that needed a win to get in to the tournament for the last game of the year. KU faced a team that was flying under the radar when KU wasn't playing well in Oklahoma State. Then the next game KU had to go to Oklahoma. This year (the schedule) is the opposite. This seams like the perfect game for Kansas to bounce back. If they lose this game to TCU, or if this is even close, there's a lot more to be concerned about than an injury to Embiid. If he is out, I think that the Traylor-Black combination will be just fine; Kansas should have a comfortable win. If they get upset (again) I don't think there will be anyone in Lawrence, or the entire KC-Metro area, who won't be pushing the panic button.
Q: West Virginia will face the Longhorns in Texas this Saturday; can West Virginia pull of the upset? 
Landreth: I certainly hope so. We saw Texas go to West Virginia earlier this year, sitting at 0-2, and they won pretty easily. I think that kicked off their seven-game winning streak. Jayhawk fans will certainly be rooting for the Mountaineers, coming off of one of the most impressive wins of the year, in that game against the Cyclones. That was extremely impressive. If Texas loses this one and Kansas goes up by two games, then you just circle that game when Texas comes to Allen Fieldhouse, and if Kansas wins they guarantee at least a share (of the Big XII title). I'm not going to pick against Texas at home, although considering how empty their arena was during the Oklahoma State game I can't say it's because I think they'll have a lot of crowd support. I can't pick against Texas at this point, but it seams like every year since about 2011 they start really strong before losing some games that are just head-scratchers. With Rick Barnes, you never know. I hope I'm wrong, but I think Texas wins by four or five.
Q: Do they Jayhawks continue their streak of 30-win seasons this year? How many games do you think they'll win?
Landreth: Well last year, heading into the Big XII Tournament, this was a team that had won 12 games in the non-conference schedule and 14 games in the Big XII conference. After three more wins they were sitting at 28 heading into March Madness. They lost three more non-conference games than they did last year, but I think that the Jayhawks finish 15-3 in conference, losing at Oklahoma State or at West Virginia. The Big XII tournament is going to be an absolute bloodbath. There's no predicting what is going to happen there. Teams two through eight are completely up in the air. If you pencil them in as winning that it would give you 27 wins for the season, at which point the Jayhawks would need to reach the Elite Eight (for 30 wins). At the beginning of the year I had them losing in the Elite Eight, so if I had to guess a number I would say 30, and I think that 29.5 is probably a perfect over/under right now.
Q: What are three teams that you think Kansas needs to avoid at all costs in the NCAA Tournament?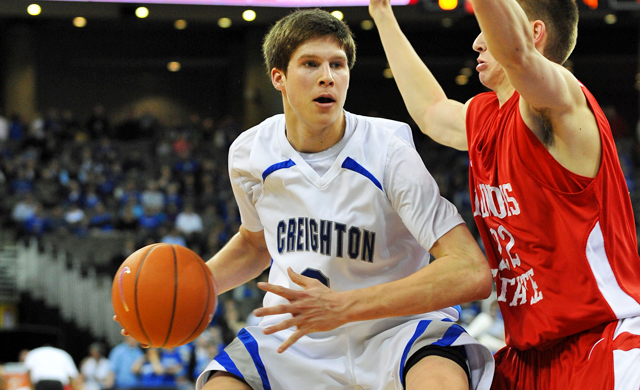 Landreth: The first one would be Cincinnati. I would say San Diego State, but I think that'd be one that's on everybody's mind after the game this year. Cincinnati plays a very similar way, as they have one of the best defenses in the country. They're very similar to Kansas last year, with maybe a little less offense, but they know how to play defense. They hold their opponents to about 55 points a game, and Kansas should want no part of them. Another team to avoid has to be Creighton. Kansas has a bad history with the mid-majors, so I won't even get into that, but facing a team that has matchup problems, especially with one specific player who is so versatile.  Doug McDermott (pictured above) can take the ball down low, shoot the three, and I think Kansas should want no part of Creighton. Finally, I think the third team Kansas needs to avoid is a team they already played this year, which is Florida. There are a couple of brackets now that have us as a two-seed in Florida's region, which would be far from ideal. Florida hasn't lost a game since they got their entire team back. If they can beat Kentucky this week then they'll probably run the table in the SEC. They have my vote for the best team in the country right now. Syracuse would be tough if KU played them on two days of rest, but if you give Self five days to work against the zone I think they would be okay. Conversely, Florida can just beat you in so many different ways.  They have such a big team, but they can shoot the three and are great defensively, and they have a great coach.
Q: On the other side of things, what are a couple of potential top seeds that you think Kansas will matchup well against?
Landreth: I don't want to say the one that everyone probably would, in Wichita State, but I think that'd probably be the best. If Kansas is a two-seed in Wichita State's region, I think Kansas would be absolutely thrilled. It'd put the pressure (of being the one-seed) on Wichita State, and I think it would even work to Kansas' advantage if they were undefeated. Earlier in the year it was hard to stand them, or their fans, but I'd hope they were undefeated, entering the tournament at like 34-0. Let them see what the pressure of a one-seed is like. I think Kansas matches up great with them. They're a smaller team, and if Kansas guards the perimeter against them, I don't think they'd have a probably comfortably winning that game. I'd love to see Kansas face them. The other team would have to be Duke. Duke is penciled in as a two-seed at this point, but we're all waiting to see how they play in the North Carolina game before they can be considered one of the top eight teams. Obviously Kansas beat them earlier in the year, and I like the matchup for the Jayhawks. It was an even game for the first 37 minutes, with similar teams who have great coaches and players. The Andrew Wiggins-Jabari Parker matchup was talked about a lot. These are two teams that were very similar at the beginning of the year, and it'd be interesting to see how they've progressed. I think that Kansas, just like the first time, would be able to pull out a win against Duke. The ability of Kansas' players to finish the game would be the key factor, as they probably have more overall talent on the roster.
Q: Who is the one player for Kansas that is going to be key if they're going to make a Final Four run this year?
Landreth: The obvious choice here is Naadir Tharpe. When he's good, Kansas wins comfortably in Ames, but when he's off, Kansas gets blasted in Austin. The obvious choice there is Tharpe, but I'm going to go with Embiid for this one. He's just averaging about 21 minutes since his injury. If Joel Embiid can average 26 minutes per game from here until the last game they play, they will be as legitimate a title contender as any other team. When he's out of the game point guards can go straight to the rim against Kansas. The teams that go far in March are going to be the teams with point guards. I mentioned Wichita State (Fred Van Vleet) and Duke (Quinn Cook), but the other the other teams that are up there, such as Syracuse and Florida, have point guards that like to drive with the basketball. Whenever Joel Embiid is in the game it completely blows up that element of the opponent, and it helps with the opportunity to force turnovers. If Embiid only plays about 20-23 minutes a game in the tournament, I think they'll lose before the final four, maybe even before the Elite Eight. However, if he can play 26-27 minutes per game and stay out of foul trouble, he's a complete nuisance to the opponent. Those few minutes should provide enough opportunity for the result to swing in the Jayhawks' favor. If he's playing 27 minutes per game and putting up 13 points, 8 rebounds, and 3 blocks a game, Kansas could go all the way.