Tarik Black throws down a Blake-like dunk on Texas
Tarik Black hasn't exactly lived up to his expectations as a Jayhawk this season. If there's one thing he has provided is some exciting dunks. Saturday was one of those days where the Jayhawks were high-flying and providing the fans with quite a show. Black joined in late in the action with this "Mozgoz" dunk over a Texas defender:
—–
However the bench ended up stealing the show with this amazing reaction: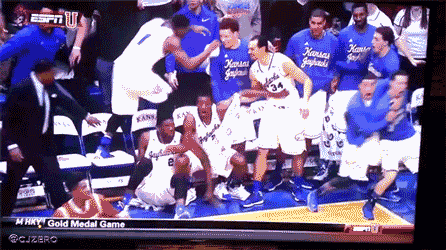 Make note of Wayne Selden running around the bench to jump into Niko Robert's arms. Also notable is Naadir Tharpe's robot. Jerrance Howard earned his paycheck trying to calm down the bench but he eventually gives up.