2014 South Region Breakdown – First Weekend
The Kansas Jayhawks are the No. 2 seed in the South Region and are headed to St. Louis. Here's the breakdown of the entire South region of teams KU could possibly play, with importance on the teams KU could face in the first weekend first.
Kansas vs. Eastern Kentucky – Friday, March 21st – Approx. 3:10 CST
Last year, Kansas played Western Kentucky in the first round. This year, they're playing Eastern Kentucky. Funny how things like that work out.
Anyways, Eastern Kentucky is a No. 15 seed and they're making their eight NCAA tournament appearance and first since 2007.
Conference: Ohio Valley
How'd they make the tournament?: They beat No. 1 seed Belmont, 79-73, on March 8th in Nashville to win the Ohio Valley conference tournament. They are an automatic bid.
Regular season record: 24-9
Kenpom Ranking: 129
Kenpom Offense: 53
Kenpom Defense: 240
RPI: 99
RPI Top 50 record: 0-2
Strength of Schedule: 234
Good wins: Belmont (twice). Belmont did beat North Carolina in Chapel Hill.
Bad losses: Youngstown State, SIU-Edwardsville, Murray State, Morehead State, Tennessee Tech
Record against 2014 tournament field: 0-3 (VCU, Wisconsin, NC State)
Players to watch:
Glenn Cosey – 18.8 points per game, 4.2 assists per game, 3.2 rebounds per game
Corey Walden – 14.1 points per game, 3.0 assists per game, 4.2 rebounds per game
Some notes: 
Corey Walden was the Ohio Valley Conference Defensive Player of the Year
Kansas averages 38.1 rebounds per game while Eastern Kentucky averages 26.2
Eastern Kentucky averages 8.8 steals per game.
Eastern Kentucky averages 14.6 assists per game
Round of 32 Potential Match-ups (Sunday, March 23rd): 
Stanford:
Stanford is coming out the Pac-12 with a talented team that is battle tested. Nine of their 12 losses are to teams in the RPI top 50 and their 6-6 record against the NCAA tournament field is nothing to scoff at. This is probably the better matchup for KU in the Sunday game.
Conference: Pac-12
How'd they make the tournament?: At large bid
Regular season record: 21-12
Kenpom Ranking: 37
Kenpom Offense: 39
Kenpom Defense: 60
RPI: 41
RPI Top 50 record: 5-9
Strength of Schedule: 16
Good wins: UConn, Oregon, Arizona State (twice), UCLA,
Bad losses: Oregon St, Washington,
Record against 2014 tournament field: 6-6
Players to watch:
Chasson Randle – 18.7 points per game, 3.5 rebounds per game, 2.2 assists per game
Dwight Powell – 14.2 points per game, 6.9 rebounds per game, 3.2 assists per game, 1.3 assists per game
New Mexico
I truly believe New Mexico will take down Stanford on Friday mainly because New Mexico seems to be under seeded, in my eyes. However, Stanford is battle tested and could easily take down the Lobos. I see New Mexico winning and if they face KU, they could take down the Jayhawks. Embiid was a big key in the first matchup and he'll most likely not play. Although, if Embiid can go for 10-15 minutes, that might be all the Jayhawks need to get the victory. We'll see what happens but this game will be won in the trenches.
Conference: Mountain West
How'd they make the tournament?: Automatic bid for beating San Diego State
Regular season record: 27-6
Kenpom Ranking: 28
Kenpom Offense: 38
Kenpom Defense: 38
RPI: 12
RPI Top 50 record: 3-3
Strength of Schedule: 39
Good wins: Cincinnati, San Diego State (twice)
Bad losses: UNLV
Record against 2014 tournament field: 4-4
Players to watch:
Cameron Bairstow – 20.3 points per game, 7.4 rebounds per game, 1.6 assists per game
Kendall Williams – 16.4 points per game, 3.5 rebounds per game, 4.9 assists per game, 1.6 steals per game
———-
Here is a chart of all teams playing in St. Louis in the South region. The chart is from KUSports.net, so excuse the misspelling of Stanford: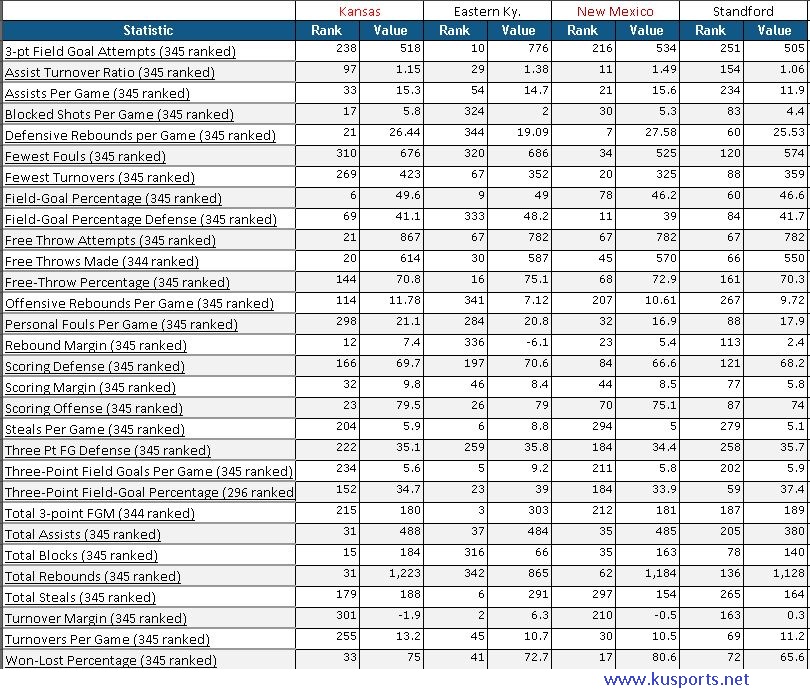 ———-
I'll have a breakdown of the second weekend tomorrow. There are some great possible matchups with Syracuse, Florida, VCU and UCLA possibly making it through.