Opinion: With Parker gone, Wiggins can seize the spotlight
No one really expected Mercer to take down Duke on Friday. No one expected Jabari Parker to finish his career with one of his worst performances, either.
In Duke's loss to Mercer, Parker hit only four of his 14 field attempts and only finished with 14 points because he was 6-for-7 from the line. Parker also had four turnovers, four fouls, one steal and seven rebounds.
After the game, Parker told ESPN that he felt his career was "incomplete."
While Parker will go on to pick up various freshman of the year awards in the following weeks, Andrew Wiggins can prove once and for all that he's really the best freshman of this class.
At the very least, Wiggins can prove he's a better winner.
Wiggins has been fantastic on offense the past couple of weeks, as he has become more aggressive and comfortable. It's even possible that the loss of Embiid has helped because he realizes he's the most consistent scorer on this team. His defense remains stellar and under the radar.
On Saturday, Wiggins talked about what has changed for him as the season has progressed.
"Just playing at a slower pace and letting the game come to me," Wiggins said "That and staying aggressive throughout the whole game."
Bill Self reiterated that Wiggins' comfort level has a lot to do with it, which has allowed him to become more of a complete player.
"He is much more comfortable with what he's doing.  He is much more confident and certainly when teams are designed to key on him he's been very poised in learning how to play out of that and not get frustrated," said Self. "I think as much as anything, he's become more of a complete player.  He's a guy that can do a lot of different things and certainly if he gets an opportunity to play to his athletic ability, you know, he's probably about as athletic as anybody in the country.  And there are a lot of great athletes out there, but he is certainly one of them."
On Friday, he broke the freshman scoring record at Kansas. With potentially five games left in his career, he could potentially score 700 points, which has only happened twice at Kansas in the Big 12 era.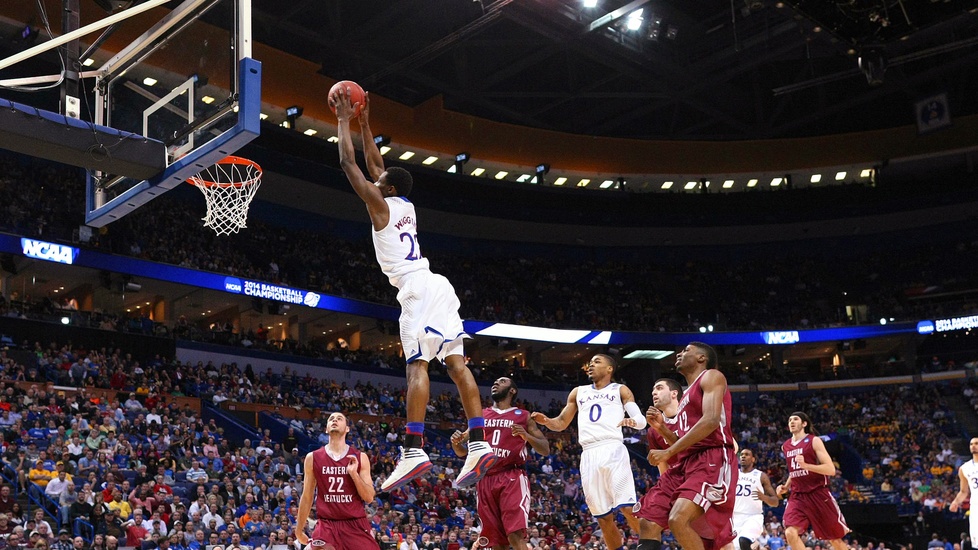 The first two days of the tournament are hectic because at times, you have four games going on at once. Performances like Adreian Payne's 40-point games get overlooked for upsets and buzzer beaters. Tomorrow, Kansas plays the first game of the day and all eyes will be on the Jayhawks and Wiggins. A win gives KU a trip to Memphis for the Sweet 16 where they'll take on a Cinderella team in the Dayton Flyers.
Last time Kansas played Dayton in the NCAA tournament, Cole Aldrich recorded the first official triple double in KU basketball history. Kansas also would face their third double digit seed in the Sweet 16 for the fourth time since 2008 (2008, 2011 and 2012).
With Parker, Tyler Ennis and possibly Julius Randle (Kentucky plays Wichita State on Sunday) out of the NCAA tournament, Andrew Wiggins can have the freshman spotlight all to himself.
Wiggins realizes that a solid tournament can solidify his legacy as a Jayhawk but realizes the Jayhawks have already had a good year.
"I think it will be better, you know, if we won this tournament," Wiggins said about his career being judged as a Jayhawk. "But we still had a good year either way.  Even though we won one of the toughest conferences in college basketball and no one can take a good year away from us."
And Wiggins can make a good year into a great year by seizing the spotlight.