Basketball Notebook: July 15th
We're halfway through July, which means college football season is coming up. But that doesn't mean college basketball news is slowing down!
Cleveland Cavs contacted Bill Self about head coach position
On Monday, Bill Self said that Cleveland reached out to him regarding their head coach vacancy and a few other things, including his thoughts on Andrew Wiggins.
"I talked to the Cavs' people a lot throughout their evaluation process and the draft, but I'll just leave it at that," Self said. "That wasn't anything I wanted to become public certainly, and they didn't either."
Bill Self clearly didn't feel it was necessary to leak it to the media when it happened.
Eventually, the Cavs hired David Blatt.
You wonder if Bill Self ever does think about being able to coach the talented Cavs roster… especially now that they have Wiggins and LeBron James.
However, Bill Self said back in May that there was no chance he'd go to the NBA (right now) because he says he has it better than NBA coaches.
"I think I've got a better situation than a lot of the franchises in the league," Self to ESPN. "People may think that's hard to believe, but they haven't been here or know what's gone on here. (I'm) very content where I am."
Cliff Alexander seemed confused about the Self-Cavs news
Cliff Alexander tweeted this when he saw an Instagram post with the KC Star headline about the Cavs and Bill Self. Considering Alexander had no context of the situation (afterall, it was a screenshot of the headline, not the actual article, Alexander's reaction was less than enthused.
Is this true? pic.twitter.com/lwJQEAn33E

— Cliff Alexander (@HumbleKid_2) July 15, 2014
Think about it from Cliff's point of view. He came to Kansas to play for Bill Self and suddenly he finds out in July that Self could have been gone in May or June, when he already enrolled in school. That would have been heartbreaking for him.
Fortunately for Cliff (and Kansas fans), Self isn't leaving anywhere. But if you think about it, you've got to appreciate Alexander's reaction to the news. It shows how much Self means to this program right now.
Kelly Oubre sprains ankle
Bill Self confirmed to the LJ-World on Monday that Kelly Oubre sprained his left ankle at the LeBron James camp in Las Vegas last week. 
Self said Oubre won't be able to participate in any basketball-related physical activities for at least a couple of weeks. Oubre is in a walking boot.
"He turned his ankle at the LeBron deal. He'll be out for a little bit, but hopefully no more than a couple weeks," Self told the Journal-World. "Tests were all negative. Everything's fine, but he did sprain it pretty good."
Just last week, Rock Chalk Blog reported that Cliff Alexander was in a walking boot and it was later revealed Alexander sprained his right ankle. Both players don't need surgery for the injury.
LeBron James' omission of Wiggins in his SI Letter was unintentional
Lee Jenkins, the sports reporter from Sports Illustrated who got the exclusive letter from LeBron James that announced he was returning to Cleveland last week, did a podcast with Richard Deitsch on Monday.
Deitsch tweeted out the following: Jenkins "said there was zero [intent] to Andrew Wiggins' name being omitted in LeBron's first-person piece."
Many people interpreted it that LeBron wanted Wiggins gone in a trade for Kevin Love. Turns out it was just because LeBron had so many things going on in his life and he simply just forgot to mention every single teammate.
While we can analyze every little thing LeBron James does, it appears this was not one of them.
Over the weekend, the Cavs' owner and coach both said they have no intentions of trading Wiggins for Kevin Love (or anyone for that matter).
Joel Embiid and Marcus Smart sign with adidas
Joel Embiid is following in the footsteps of Andrew Wiggins again. SLAM reported that Joel Embiid (and Marcus Smart) are both joining the adidas team. 
SLAM did not mention how much money the deal is worth but is reporting that it is multi-year.
Scouts' Reaction to Wiggins' first Summer League game
As you all know, Wiggins participated in his first Summer League game last week.
Jeff Goodman was able to gauge the reaction from some NBA scouts.
Here's what the had to say: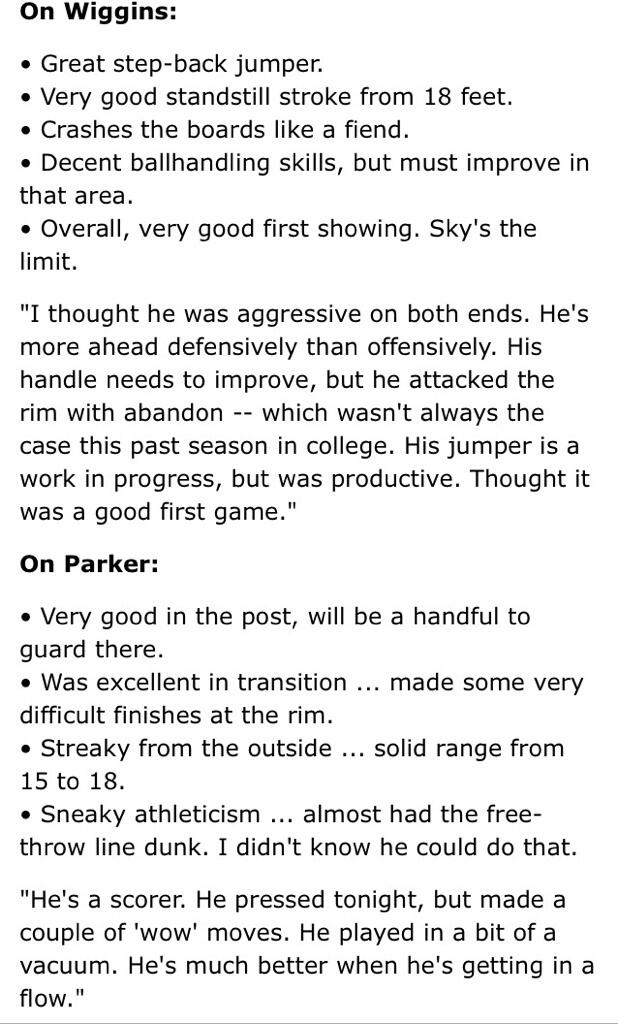 Recruiting News
A couple stories regarding recruits popped up the last couple days.