Jayhawks Outlast West Virginia in Overtime
"Somehow, the guys found a way." – Bill Self
Kansas was expected to come out and beat West Virginia handily. After all, it was Senior Night, they had a chance to clinch the Big 12 title outright, and West Virginia was missing two of its best players due to injury.
The first half proved otherwise.
The first four minutes weren't bad, as Kansas kept the young game tied, 6-6. That's when West Virginia proceeded to go on a 16-4 run, while Kansas didn't hit a single field goal in that timespan.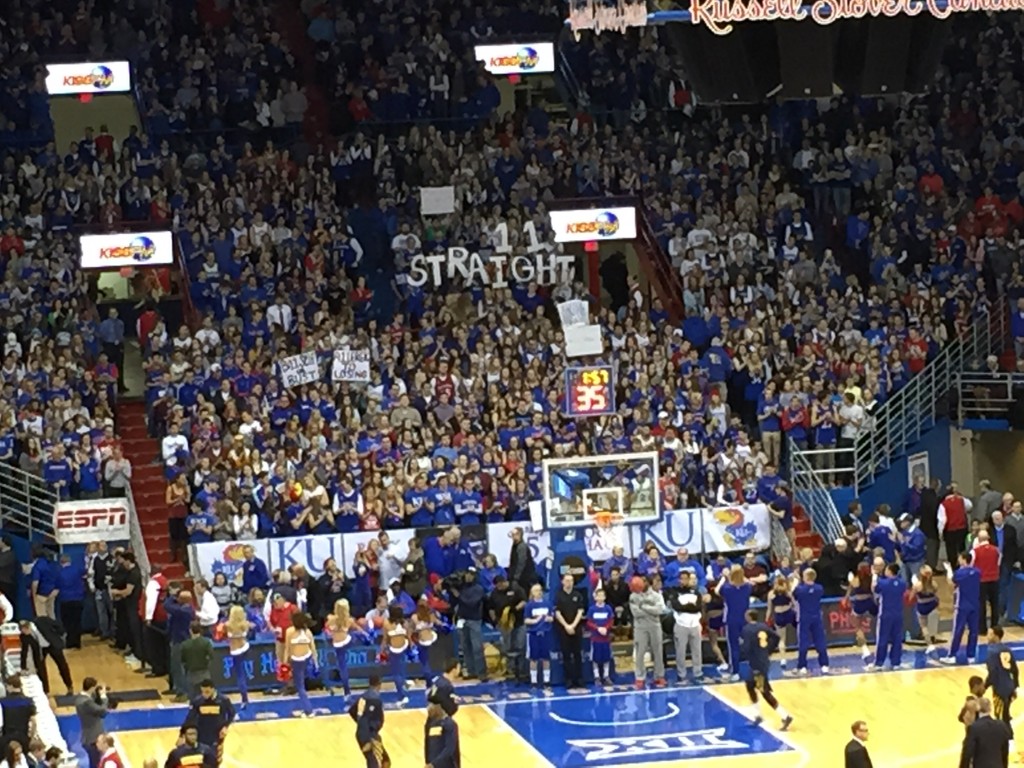 Kansas went over eight minutes without hitting a shot from the floor until Hunter Mickelson finally broke the scoring drought. (If I would have told you before this game that Hunter Mickelson would score KU's first bucket in over eight minutes… well, I wouldn't have said that.) Mickelson, of all of KU's talent, came to play and was the only bright spot of the first half.
Another massive problem Kansas faced in the first half was rebounding. They were getting crushed on the boards, 26-11. West Virginia had more offensive rebounds (14) than Kansas had total rebounds (11) at the half.
And to add injury to insult, Perry Ellis went to the floor while holding his knee after being rolled into by Landen Lucas.  Ellis headed to the locker room before the half ended and did not return to the game.
At halftime, the score was West Virginia 40, Kansas 26. Kansas did not make a three-pointer in the first half.
The worst part of it all is that Kansas fans actually felt relieved to only be down 14. It could have been much worse. Kansas had to come out as a completely different team the second half, and they did.
In the first five minutes of the second half, Kansas went on a 9-4 run to cut the lead to single digits. The defense was noticeably better. However, Kansas continued to have trouble rebounding, allowing West Virginia to get another six offensive rebounds in the second half.
Kansas didn't let this game go, even as West Virginia couldn't seem to miss a three-pointer. Kansas was determined to fight back, and the team made up for their poor effort from the first half. The Jayhawks kept closing in on the Mountaineers, slowly gaining, until they were down by only two points with 15 seconds to go. (Though they did not make a single three-point shot in the second half, bringing them to a total of zero for the game.)
Kansas tried to run their signature chop play, but freshman Devonte' Graham was fouled while trying to make the handoff. This sent the freshman to the line with a chance to shoot two free throws to tie the game. Graham hit both clutch free throws to tie the game, 59-59. West Virginia went downcourt and missed a three-point heave, but the problem that plagued KU all day continued, and West Virginia got the offensive rebound. Landen Lucas saved the day with a block under the bucket, stopping what was sure to be a heartbreaking loss after a great comeback. Overtime.
In overtime, Jamari Traylor and Frank Mason took over the game. Traylor scored 6 points, including a massive dunk, and Mason scored 8, including six free throws.
Kansas pulled out the win after being down by as many as 18 points, and the Jayhawks made their 11th consecutive Big 12 title an outright one in this rollercoaster of a game. All of this without making a single three-point shot through both halves and overtime.
March has definitely arrived.
"This rivaled the last Missouri game here. KU faced a lot of obstacles, didn't have anything going versus WVU before coming back." – Bill Self
NOTES: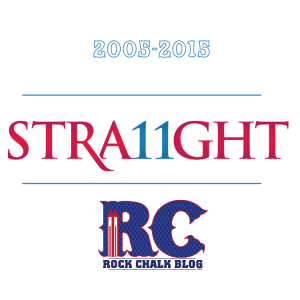 There have been three comebacks of 18 or more points in Allen Fieldhouse history. Two of them occurred this season.
Had Kansas lost this game, there was a possibility of a four-way tie atop the Big 12 conference occurring Saturday. With the win, Kansas is bolted into the #1 seed position for the upcoming Big 12 Tournament.
The Jayhawks did not make a three-pointer. They were 0-15 for exactly 0%.
In the last three games, KU is now a dismal 3-36 (8%) from deep.
In case you haven't heard the stat: Since 2006, Kansas is 14-0 when making either zero or one three-pointer.
Did you read that? If you didn't go "…Huh", then read it again. It doesn't make any sense.
Kansas was outscored 40-26 before halftime, only to win the second half 33-19.
Mason: 19 points, 7 rebounds, 3 assists, 3 steals, 1 turnover, and 11-12 on free throws.
Traylor: 14 points, 9 rebounds and 2 steals.
Oubre: 12 points and 2 steals.
Graham: 10 points and 4 turnovers.
Mickelson: 8 points, 3 steals, 2 blocks.
Lucas: 6 rebounds, 2 blocks.
Greene: 4 points, all from free throws. Remember when he was shooting over 60% from three in conference play? He's just 2 for his last 19. The three point rate in Big 12 play has fallen from 63% to 43% (22 for 51)
Kansas went from 17:00 until 8:35 in the first half without a field goal.
I haven't seen the win expectancy graph, but when Kansas was down 57-49 with 1:55 left, I can't imagine the win probability was very high.
Oubre sat for way too long while Kansas was getting killed on the boards.
Kansas finished the season a perfect 16-0 at home. Included in there are two 18-point comebacks and two blown 18-point leads. They somehow won them all.
West Virginia had 10 turnovers in the first half. At Allen Fieldhouse. And was somehow up by 14 at halftime. This Kansas team isn't very good at converting turnovers into points.
Devonte' Graham fell apart for most of this game, not making very many good choices. He came through when it mattered though, hitting the tying free throws at the end of regulation.
I love Mason, but his head snap-back flops are a little aggravating when he does it every time he drives and ends up turning the ball over.
Ellis is reportedly unlikely to play vs. Oklahoma, let's hope that Self decides to give Mason the night off  as well. Let the guys rest up before the postseason begins.
TWEETS:
Sentence I never thought I would say: Kansas would probably be down by 25 at half in AFH if not for Hunter Mickelson.

— Tom (@TJFsports) March 4, 2015
Jamari Traylor misses the jumper… and it turns out to be a best case scenario for the Jayhawks, as he gets his own rebound and scores it.

— Scott Chasen (@SChasenKU) March 4, 2015
Oh so this is what Self sees in Traylor

— rockchalktalk (@rockchalktalk) March 4, 2015
To say Jamari Traylor is fired up right now would be like calling LeBron James a moderately decent basketball player.

— Scott Chasen (@SChasenKU) March 4, 2015
Mason should not play one moment vs. OU. He has to have tired legs and a sore back from carrying this team. #BIFM #BIFM #BIFM #kubball

— Rock Chalk Blog (@RockChalkBlog) March 4, 2015
Eleven straight. Outright. What a game. No words. Allen Fieldhouse is everything. #kubball

— Rock Chalk Blog (@RockChalkBlog) March 4, 2015
No game at AFH will ever be as intense as the final Border War, but this was damn close.

— Phog Advisory (@PhogAdvisory) March 4, 2015
The stat that blows me away: In the last 2 min of regulation and overtime, Mason/Traylor combined for 20 pts. WVU scored 19 in the 2nd half

— Scott Chasen (@SChasenKU) March 4, 2015
It's technically March, so I guess it makes sense for KU to try and give me a heart attack.

— Dylan King (@_DK22) March 4, 2015
Next up: Away on Saturday against the Oklahoma Sooners.