Braeden Anderson Commits to Kansas
A couple days after he expanded his list from three to five schools, Braeden Anderson has committed to the Kansas Jayhawks. Joe Dooley met with the Canadian Saturday night in his home. Bill Self, who was scheduled to come, ended up not going.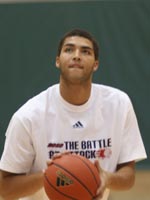 "I want to compete for championships and be on that big stage," says Anderson. "I want to be around players that want to work to be better players, but also to compete for team goals and championships. If a coach tells me to go rebound, I'm going to go rebound. If he tells me to shoot the ball, I'll shoot it. I just want to do whatever it takes to win."
Anderson is a 6-foot-8 power forward and is similar to the Morris twins in how he can step out and drain a 15-18 footer.
Anderson's list included Memphis, Arizona, Kentucky, Missouri and Kansas. Memphis and Missouri were the teams he added to his list earlier this week. Anderson originally committed to DePaul in November of 2010. However, he was released from his letter of intent.
Anderson is the third player to commit to Kansas for the 2011-2012 recruiting class. Ben McLemore committed last Sunday and Naadir Tharpe committed during the season.
[tube]http://www.youtube.com/watch?v=7g5EL_zTD-o[/tube]
Self that he was looking to add three to four more players at his final press conference of the season. Kansas still has two scholarship openings left (Mario Little, Brady Morningstar, Tyrel Reed, Morris twins).
What's really interesting is that on his Facebook fan page, Anderson posted this at around 2-4 am on April 10th (the day he committed to Kansas):
Anderson is referring to DeAndre Daniels.
A class of Tharpe, McLemore, Anderson, Daniels, Stan Simpson and/or Otto Porter would be a top-5 recruiting class. It certainly would be one of the best big man classes Kansas has ever had.
From Scout.com:
"It's about opportunity," he explained. "And it's one of those opportunities that you can't pass up. I look at all the other opportunities at the other schools, and the opportunity I have at Kansas is so much bigger and so much better."

"Even if I don't play as a freshman," he continued. "Just working out and getting better every day with Danny Manning."

Self was informed of the decision this morning, and the Jayhawks' head man was pumped.

"(Self) pretty much just said 'That's some of the best news I've heard all month,'" Anderson said. "He was really fired up. He talked to my mom and dad for about 20 minutes or half an hour. Everybody over here, and everybody over there is just really fired up."