Kansas Hires David Beaty as Head Football Coach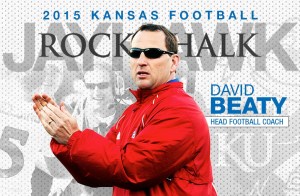 David Beaty, the wide receivers coach and recruiting coordinator at Texas A&M, has been hired as the head football coach at the University of Kansas. Beaty arrives in Lawrence with more than 20 years of coaching experience, including two previous stints as an assistant coach with the Jayhawks.
Kansas will formally introduce Beaty at a press conference Monday, Dec. 8 at 9:30 a.m.
A native of Garland, Texas, Beaty takes over the KU program after spending the three previous seasons as the Aggies' wide receivers coach. He also served as A&M's recruiting coordinator during the 2013-14 seasons.
"I am very excited to be back at Kansas," Beaty said. "I am especially excited that Clint Bowenhas agreed to stay on as assistant head coach and defensive coordinator. Clint will be a huge part of our success going forward and I am fortunate to have him on my staff."
"David Beaty is well-respected in the football community and brings to KU great vision, passion and energy," Kansas Athletics Director Sheahon Zenger said. "He has a bright football mind and is known as one of the best recruiters in the nation."
"I am pleased to welcome Coach Beaty back to the Jayhawk family," Kansas Chancellor Bernadette Gray-Little said. "He is an outstanding fit for the University of Kansas and his work to build a competitive football program will advance our athletics department and the reputation of KU nationally."
Under Beaty's tutelage, the Texas A&M wide receivers have been a record-setting group. With first-team All-American Mike Evans leading the way in 2013, the Aggies set team records for receiving yards, receiving touchdowns and completion percentage. Evans set the A&M record with 1,394 receiving yards and matched the receiving touchdowns record with 12. He also shattered and re-broke the single-game receiving record with 279 yards vs. Alabama and 287 yards against Auburn. Evans went on to become the Aggies' first wide receiver to be selected in the first round of the NFL Draft. Texas A&M was the only team in the nation with four 50-catch, 600- yard receivers in 2013.
In 2012, the Aggies had six wideouts who produced 19 or more catches, including more than 70 each by senior Ryan Swope and Evans.
Beaty came to Texas A&M after serving as offensive coordinator at both Kansas and Rice. He was the co-offensive coordinator and wide receivers coach at KU in 2011, and helped develop one of the Big 12's top all-purpose threats in wideout D.J. Beshears.
Beaty spent the 2010 season as the offensive coordinator at Rice, where he helped the team average 28.7 points and 375.3 yards per game. Prior to his second stint at Rice, Beaty was the wide receivers coach at Kansas during the 2008 and 2009 seasons.
During his first tour at KU, he helped receivers Kerry Meier and Dezmon Briscoe develop into NFL-caliber players. Meier, who was taken in the fifth round of the 2010 NFL Draft, received All-Big 12 accolades in 2008 and 2009, while Briscoe, a sixth-round selection in the 2010 NFL Draft, was an All-American and first team All-Big 12 pick in 2009. In 2008 five different KU players produced a total of 15 100-yard receiving games. Among the school records set by KU wide receivers in 2008 were season receptions, game receptions, season yards, game yards, and season touchdowns.
Beaty spent the 2006 and 2007 seasons as the wide receivers coach at Rice. In 2006 he served as passing game coordinator as the team made its first bowl game in 45 years (the New Orleans Bowl). He had two players – Jarett Dillard and James Casey – drafted by NFL teams following the 2007 season. Dillard ranked in the top-25 nationally in both receptions and yards in 2007, and he led the nation in touchdown receptions (21) in 2006.
Prior to joining the Owls' staff, Beaty was a successful head coach at MacArthur (Irving, Texas) High School from 2002-05, where his teams posted a 33-11 record and won two district titles. He earned several coach-of-the-year honors while at MacArthur.
Beaty began his coaching career as an assistant coach at Naaman Forest High School in Garland, Texas, from 1994-96. He was also an assistant at Garland High School from 1997-2000. Garland claimed the Class 5A Division II state title in 1999.
Beaty assumed his first head coaching job at North Dallas High School in 2001. He coached there for one season, posting a 6-4 record, before taking over at MacArthur.
Beaty is a 1994 graduate of Lindenwood (St. Charles, Mo.) College, where he played football and served as a team captain from 1992-93. He was a four-year starter at wide receiver and led the team in receptions for three-straight seasons. He played both football and soccer at Garland (Texas) High School where he graduated in 1989.
Beaty and his wife, Raynee, have two daughters, Averie (15) and Alexa (10).
WHAT THEY'RE SAYING ABOUT DAVID BEATY
Texas A&M Head Coach Kevin Sumlin
"David is a great recruiter, a great coach and a great man. He was one of the first people I hired at Texas A&M and he's been a huge part of what we've been able to accomplish here. He's earned this opportunity to be a head coach, and I believe he will do a tremendous job with the Jayhawks."
Tampa Bay Buccaneers Wide Receiver Mike Evans
"Coach Beaty is one of the most genuine people I've ever known, and he really cares about his players. On the field, he's a great coach with a lot of energy and he's fun to be around. He will always push you to be your best."
NFL and Kansas All-American Wide Receiver Dezmon Briscoe
"Coach Beaty is a players' coach, but he knows when to be serious. He is not afraid to put his foot down and tell you what you are doing wrong. He won't let you sit around and be mediocre. He wants greatness from you."
"Coach Beaty developed me as a receiver, but he also developed me as a man. When he came to KU he took me under his wing and really helped me mature off the field. We have a great relationship and still communicate to this day."
NFL and Rice All-American Wide Receiver Jarett Dillard
"Coach Beaty was a great mentor and coach for me during my time at Rice. He was a very valuable asset to our program. He helped develop me as a patient route runner and receiver who could handle the pressure that was going to come from defenses keying on me. It was a breath of fresh air to learn the game from someone who really understands both the mental and physical aspects of coaching football."
David Beaty Coaching Experience
| | | |
| --- | --- | --- |
| 1994-97 | Naaman Forest HS (Texas) |  Assistant Coach |
| 1997-00 | Garland HS (Texas) | Assistant Coach |
| 2001 | North Dallas HS (Texas) | Head Coach/Athletic Coordinator |
| 2002-05 | Irving MacArthur HS (Texas) | Head Coach/Athletic Coordinator |
| 2006-07 | Rice | Passing Game Coordinator/Wide Receivers |
| 2008-09 | Kansas | Wide Receivers |
| 2010 | Rice | Offensive Coordinator |
| 2011 | Kansas | Co-Offensive Coordinator/Wide Receivers |
| 2012 | Texas A&M | Wide Receivers |
| 2013-14 | Texas A&M | Wide Receivers/Recruiting Coordinator |
Personal Information
Hometown: Garland, Texas
Education: 1994 – Bachelor's Degree from Lindenwood College
Family:  Wife – Raynee and daughters Averie (15) and Alexa (10)