Andrew Wiggins to appear on cover of Sports Illustrated
First GQ and now Sports Illustrated…
Andrew Wiggins is featured on the cover of the newest Sports Illustrated issue, which is set to hit newsstands this week. The cover of the issue features Wilt Chamberlain and Danny Manning, who also both happened to be highly-touted freshman.
Here's the full cover: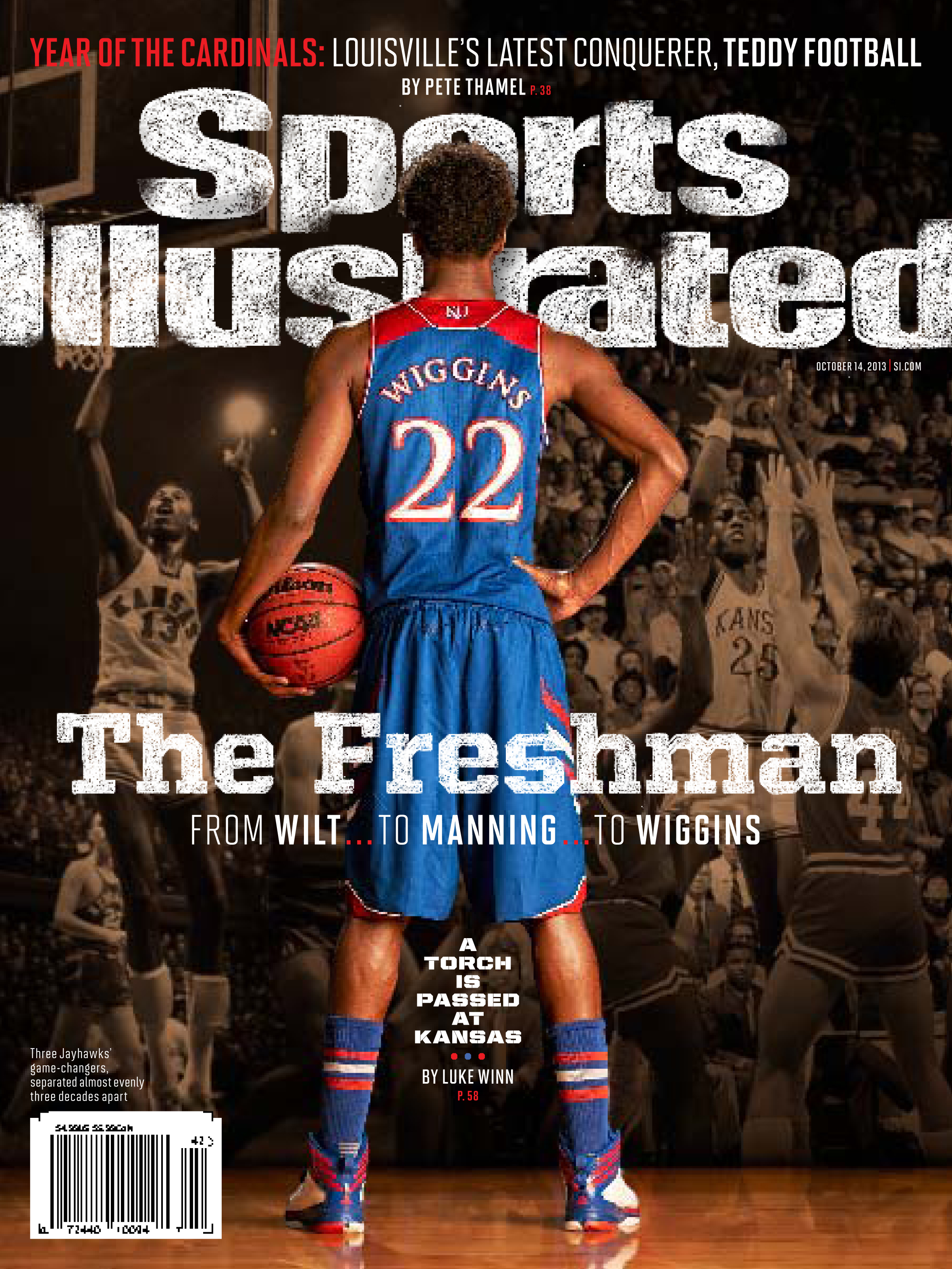 Brad Smith, director of photography from Sports Illustrated, first tweeted out the picture. However, he decided to delete the tweet because he wasn't expecting it to the get attention it did and decided to wait until Wednesday morning to re-post it.
I talked with Smith on Wednesday morning and he gave me a couple of interesting notes about the SI cover and cover story that I'd like to share:
Smith said that Wiggins was great to work with. He said that he was "friendly, happy and cooperative" and was all about basketball, which is unique for an 18-year-old.
SI's creative directors, specifically Chris Hercik, were looking through old iconic pictures of Wilt Chamberlain and noticed the picture of Wilt tying his shoes. This inspired the mirrored picture below: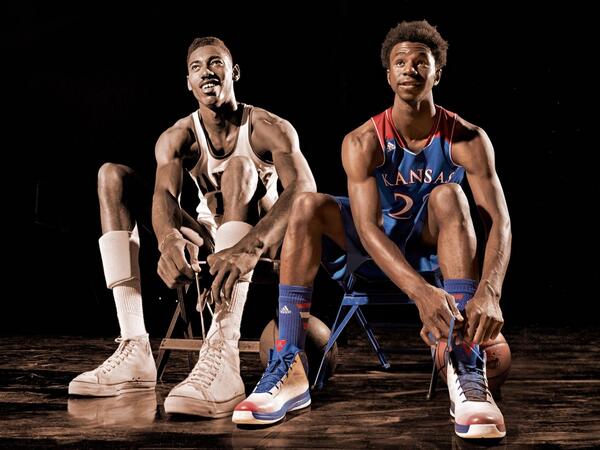 Smith said that they aren't trying to compare Wiggins to both Wilt Chamberlain or Danny Manning but rather trying to highlight their freshman paths and how similar they are in that way. Smith specifically said "this is not a comparison piece but rather a comparison piece of the three freshman years. It's a cool and unique angle."
The article itself speaks to what is like to be a freshman for all three: Wilt, Danny and Andrew. And the article ties him into each of the three classes.
Smith on why they choose Wiggins: "He's the most talked about recruit of this class, he's coming to a big time school and that's he's from Canada."

The cover photo is portraying Wiggins looking back at "past and great history of Kansas."
The table of contents features the same pose but now you get to see his face.
The lettering is chalk
There are two photos from the staff photographer of Kansas, Jeff Jacobsen. Said that Jacobsen is one of the best photographers on a college campus and that he appreciates his work. The two photos from Jacobsen are from Late Night: an action shot of Wiggins and a picture of the fans
Smith credits the creative director team for Chris Hercik the digital iPad/tablet cover (which can be viewed at the bottom)
Luke Winn, the author of the cover story just tweeted this out:
The cover is the cover … but the story doesn't call him the Next Wilt. It's about the arrivals of three No. 1 players in different eras.

— Luke Winn (@lukewinn) October 9, 2013
Here's the digital iPad version of the magazine: