Jayhawks in the NBA: Power Rankings – Week 1
Editor's Note: Jayhawks in the NBA is a new series written by Scott Chasen. Scott is our go-to NBA guy and you'll see why. This is a weekly series that comes out every Sunday.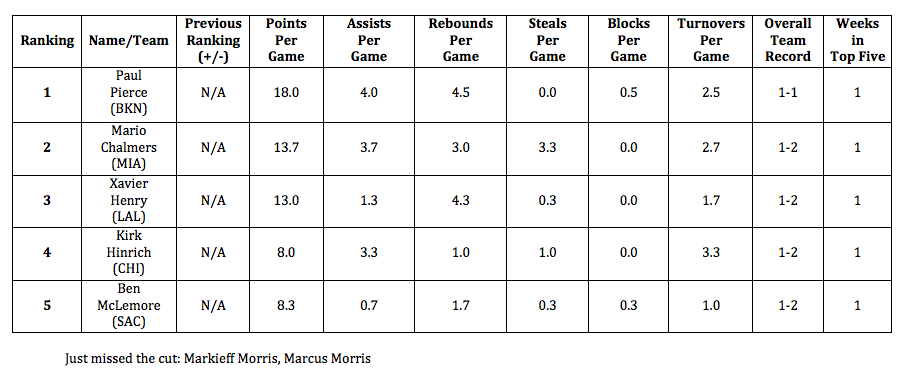 1. Paul Pierce – In the history of the NBA, only one thing has remained undefeated: "Father Time."  Despite his age, Pierce easily came in at number one this week, as he led all Jayhawks in points per game and managed to put up solid numbers in the rebounds' and assists' columns. Brooklyn had an interesting week, losing to the Cleveland Cavaliers and then turning around and beating the Miami Heat, but fans were relieved to see that Pierce is still playing at an All-Star caliber level, despite the fact that he turned 36 less than a month ago.
As long as he stays injury free, Pierce will likely find a home at the top of the power rankings, as he is a fantastic scorer who can do all of the little things. Brooklyn might even be a contender for the NBA Championship this year, as long as Pierce is at his best.
2. Mario Chalmers – Mario Chalmers is up to his old tricks in Miami, racking up points and assists, but his most valuable asset continues to be his defense. Through the first week of the season, Chalmers is averaging an exceptional 3.3 steals a game, in addition to his double digit scoring average. As Dwyane Wade deals with health issues, expect Chalmers to get more and more minutes.
Additionally, should LeBron decide to return to Cleveland next year, Chalmers will have a much larger role with the Heat, leading to a potential breakout season, where he could put up numbers in the range of 17 points, 7 assists, 4 rebounds, and 2 steals per game.
3. Xavier Henry – Xavier Henry, or "The X-Factor," is one of the more exciting prospects in the NBA because he would not be getting the minutes that he currently does on another team. The Lakers are a perfect home for Henry because while Kobe is out, he can provide them with quality minutes at the shooting guard and small forward positions.
Henry had a monster first game and his statistics may not fairly depict where he is as a player, considering he missed much of the Lakers last game after badly cutting his head. Xavier Henry will see a diminished role once Kobe Bryant is back, but expect to see him contribute consistently in many different areas until that time.
4. Kirk Hinrich – Simply put, Kirk Hinrich is a winner. Hinrich has seen a diminished role this year, as Derrick Rose made his return to the NBA but he has continued to work hard and earn his minutes on the court for the Bulls. At the ripe age of 32, Hinrich knows that his window for NBA success is closing, and it shows in his relentless defense and competitive spirit on the court. The only real detriment to Hinrich's game right now is ball security, as he averages 3.3 turnovers per game, which could end up costing him minutes down the road. For now, however, he comes in at number four on the list.
5. Ben McLemore – Ben, Ben, Ben.  I was completely prepared to leave McLemore off of this list, as he averaged a mere three points per game before competing against the Golden State Warriors. However, McLemore was given more minutes than he'd seen all year, and really made the most of his time. McLemore's first two games had him playing a total of 30 minutes, which he then proceeded to match in his third game alone. Despite only having scored six points on the season, McLemore came out aggressive and scored 19 points against the Warriors while snagging four rebounds. In fact, McLemore was so impressive that with that one game, he raised his Player Efficiency Rating by approximately 12 points, which is a great sign.
When watching McLemore play against Golden State, I noticed something that I really hadn't seen before with McLemore: aggression. McLemore called for the ball on just about every play and was hustling all over the court. This was the Ben McLemore that fans of Kansas wanted to see all of last year, as he finally emerged from his proverbial shell. Quite frankly, I am excited to see what McLemore does moving forward, especially if he wants to become a force on the offensive side of the ball. When it is all said and done, I could definitely see McLemore among the top two or three in the power rankings and I fully expect him to have a 35-40 point game by the end of this season.
—
Overall, I think this was a fairly successful week for Jayhawks in the NBA, but I expect players such as the Morris Twins and Thomas Robinson to push the current Top 5 for their spots on the power rankings. I wouldn't be surprised to see Markieff Morris, specifically, jump up and claim a top two spot, keeping in mind that he has only played in one game this season (after being suspended for the Suns' opener after elbowing Serge Ibaka in a preseason game). It will be exciting to follow all of the NBA Jayhawks as they start to build, or continue to mold, their legacies in the NBA.
Jayhawk Week One Highlights: