Rock Chalk Classic: Mizzou-KU (February 25th, 2012)
Two years ago today, Kansas and Missouri played for the last time ever in basketball. It was only fitting that the last Border War was a classic. It was Kansas' 172nd win over the Tigers (Missouri ended up with just 95 wins over Kansas) with the first game dating back to 1907.  The final score: No. 4 Kansas 87 – No. 3 Missouri 86. The game meant a lot because a Missouri would have meant KU and Missouri would have an identical Big 12 record at 13-3… but the Tigers would have had the tiebreaker with two wins over Kansas. Instead, the win gave Kansas a two-game lead (which they never relinquished and KU won their 8th straight Big 12 title).
I want to state that I was at this game, sitting about 10 rows up behind the Missouri bench. It was one of the best games I've ever attended and easily the loudest game I've been to at the Fieldhouse. It's a moment I'll never forget
What better way to relive that game with some photos and YouTube clips from the game.
The Block Heard Around the World
It's hard not to start from here because it was such a big moment. Kansas was down by 19 points at one point in the second half. Everyone knew Kansas would make a comeback of some sort, it was just a matter of when. With the game tied at 75  and five seconds left in regulation, Phil Pressey drives past by Elijah Johnson into the lane. Thomas Robinson makes sure the game goes into overtime by obliterating the ball, sending it to Travis Releford who heaves a desperation shot but misses. The Fieldhouse's roof somehow doesn't pop off and KU goes into overtime.
Here's the CBS feed of the moment:
Now this play, similar to Mario Chalmer's miracle shot, was videotaped by hundreds of people in the crowd from different angles. If you go onto YouTube and search for Thomas Robinson blocked shot Missouri, you get 18,300 results.
My video is one of those top results. I'll admit before you watch that I'm terrible at shooting video. My hands were shaking from the moment, which didn't help that I was holding it with one hand, and I truthfully missed T-Rob's blocked shot. Whoops. Still, you can experience how loud it really was that day.
Unbelievable moment and one I'll never forget.
Here's a GIF of the blocked shot: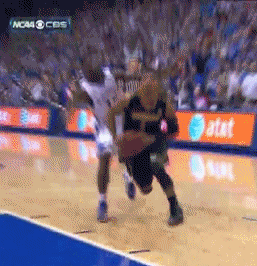 Thomas Robinson's legacy
Thomas Robinson was always going to down as one of KU's best postmen ever considering the season he had. His performance in this game put him in the legendary status. Robinson scored 28 points, grabbed 12 rebounds, was almost perfect from the FT line (8 of 9) and one blocked shot (above). His biggest points came at the end of second half, though.
Down three with 16.1 seconds left, Thomas Robinson gets fouled by Michael Dixon. He makes the shot and goes to the free throw. line. He hits the shot to tie it at 75-all, which sets up the blocked shot.
This moment happens at the 1:23:00 mark in the video embedded below (the entire first and second half of the game is embedded):
 The End of the Game
I'm just going to post the video here and not explain it. It's self explanatory:
That sound the Fieldhouse made when the clock hits zero? It's hard to describe but it was a mixture of relief and joy.