Jayhawks in the NBA: Power Rankings — Week 17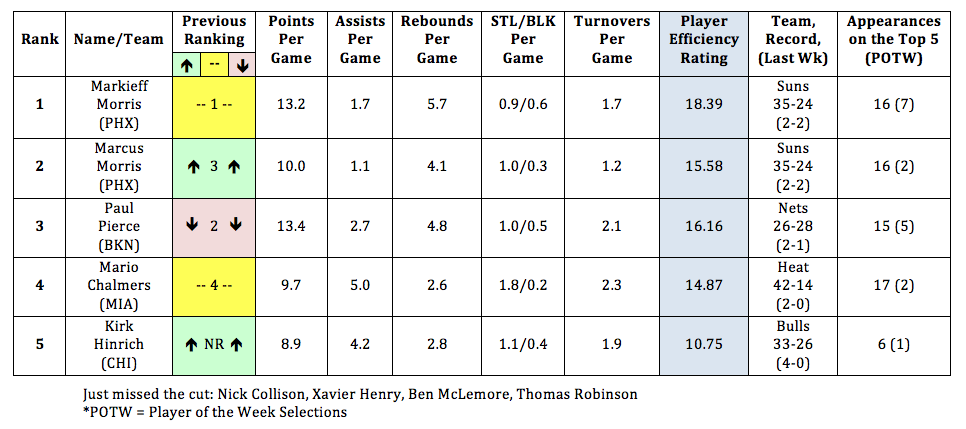 1. Markieff Morris – Markieff Morris has morphed into a completely different type of player over the last few weeks, as he has continued to dominate games with both his offense and rebounding. When playing 20 or more minutes, Morris has scored 10+ points in each of his last 22 games, dating all the way back to January 10th.  In fact, Morris has scored 18+ points and snagged 3+ rebounds in five of his last six games. Let that sink in for a moment. I'll go into more detail about Markieff Morris' spectacular week later in the article, as he is the player of the week for an absurd fifth time in the last six weeks. Now moving to the highlight portion of the evening, Markieff Morris managed a pretty impressive alley-oop jam off of a sick feed from his brother, which you should definitely check out by clicking on these very words. Brother to brother: I don't think I'll ever get tired of seeing that.
2. Marcus Morris – Marcus Morris was having a fairly pedestrian week, until the Suns needed him most. Heading into their last two games of the week the Suns had gone 0-2, and they were facing some serious pressure as far as maintaining a position in the playoffs was concerned. Marcus Morris came to the rescue for Phoenix, scoring 33 points and grabbing 16 boards in his last two games, where he also averaged 1.5 blocks and 1.0 steals per game. For the week Morris shot an outstanding 6/9 (66.7%) from three and shot just under 50% from the floor. Marcus Morris did just enough to jump Paul Pierce in the rankings this week, as he helped the Suns recover and win their last two contests of week 17, which was just enough to move them into 7th in the West and 9th in the Entire NBA.
3. Paul Pierce – I really can't figure out what to do with Paul Pierce anymore. His statistics have been good; his team is winning games; so what is the (or really, my) problem with Pierce? For starters, Pierce has shot less than 50% in every month of the regular season (except for November, where he played just one game), and he has been launching threes from everywhere on the court, despite just making 35.5% of them (his lowest percentage since the 2005/2006 season).  Pierce had a fairly decent week, averaging 12 points and 6 rebounds per game, but he only managed two total assists in his first two outings, while attempting over 20 shots. Pierce has become a lesser version of Rudy Gay, who basically disrupts all chemistry of the team when he is in the game, because he needs the ball in his hands to be effective. Hopefully Pierce will have a chance to bounce back this coming week, and passing will be a big part of that, as Pierce has only managed more than five assists in a game three times this year (6 vs Miami, 6 vs San Antonio, and 6 vs Atlanta).
4. Mario Chalmers – If I asked you to name the first thing that popped into your mind when I said "Mario Chalmers, KU," you'd probably say something about "The Shot." However, if I asked you to define Mario Chalmers as a player at KU, you'd probably bring up his outstanding defensive ability and hustle. Well, Mario Chalmers made one play in particular this week that really caught my eye. Chalmers dove on the floor for a loose ball, before flinging it backward over his head to a running LeBron James. James found Wade for the fast break hoop, and the video is quite compelling (again, check it out by clicking on these very words). During the last week Chalmers didn't do anything really exceptional, but he managed to lead his team to two key wins while chasing the top seed in the East (the Indiana Pacers), which was enough to keep him at the four spot on the list this week.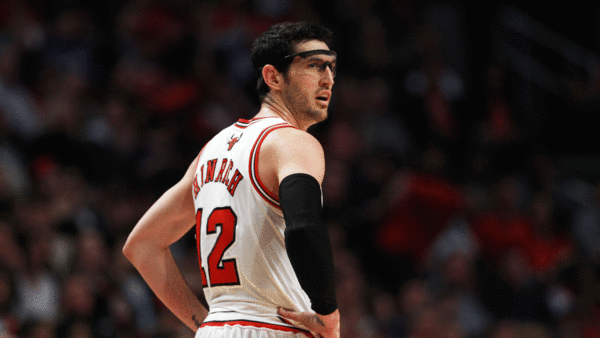 5. Kirk Hinrich – The first time I saw the hashtag #HinrichManeuver appear on my timeline on Twitter, I was thoroughly confused. I figured it was a pun that showed up somewhere in the media and left it alone. As the year has progressed I've found the usage of that very hashtag to be a fairly good indicator of how Hinrich (pictured above) is performing. When he has played well, the #HinrichManeuver has found it's way to my timeline over and over; when he has struggled the hashtag has basically become nonexistent. This week there was a lot of Hinrich-maneuvering going on, as he found his way back on to the list for the first time since week 15 (two whole weeks ago — Crazy, right?). Hinrich averaged 12.8 points, 3.5 rebounds, and 3.0 assists (he actually had exactly 3 assists in every game) over the last seven days, leading the Bulls to an impressive 4-0 record. Oddly enough, Kirk Hinrich has actually had (exactly) three assists in each of his last six games, but I digress.  Moving forward Hinrich and the Bulls have a pretty interesting matchup this week, but no spoilers (keep reading).
—
PLAYER OF THE WEEK: Markieff Morris
"Markieff Morris was absolutely fantastic this week." That's how I started last week's player of the week description, and it completely applies again… Why reinvent the wheel? So again, Markieff Morris was absolutely fantastic this week, averaging 18.5 points, 4.8 rebounds, and 2.3 assists per game, shooting 40% from three-point range and converting on over 77% of his free-throws (24/31). Morris also shot 60% from the floor in his last two games, which resulted in key wins for the Phoenix Suns. With Morris playing at such a high level there is no reason to think he won't be a serious contender for both the "Sixth Man of the Year" and "Most Improved Player" awards as the 2013-2014 season comes to a close. Morris will certainly be tested in the upcoming week, but if you want to know more about that you'll have to keep reading.
—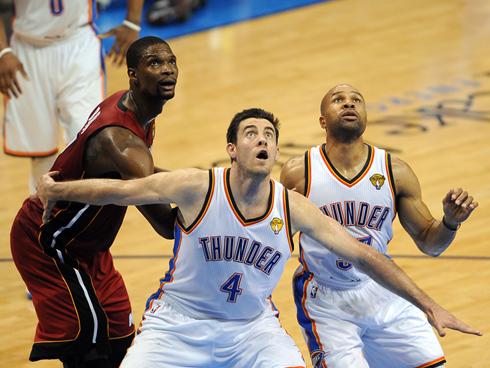 Overall… this was a pretty solid week for the Jayhawks in the NBA, as many players contended for the top five spots. Nick Collison (pictured above) in particular has been an interesting player to watch, and it was even pointed out to me by another journalism student at the University of Kansas (Evan Riggs – give him a follow on twitter here…), that he is the ranked third in assist ratio for all NBA power forwards.  Collison is an effective passer, especially out of the post, and he is really a key "glue guy" for Oklahoma City's second unit. It also should be noted that Xavier Henry will finally make his return to the Lakers after missing a ton of time due to injury. Henry played in two NBA D-League contests prior to his return, and he looked like he hadn't missed a step. Henry averaged 17.0 points in just 24.5 minutes per game, and I fully anticipate that he will be making a return to the list in the near future. Oh, and while we're on the topic of the future, it's time to look to the next week…
—
What to Watch for: This week there are three key games I'm going to preview. The first game will be this Monday when the Lakers take on the Trail Blazers. Xavier Henry will be making his return to action, and who wants to miss out on an opportunity to watch Thomas Robinson play? Second, the Suns will take on the Los Angeles Clipper on Tuesday (March 4), which will provide a great test for the Morris Twins. Markieff and Marcus Morris will be battling against the likes of Blake Griffin and DeAndre Jordan, two of the best rebounding big men in the entire NBA. Last, the Chicago Bulls will face off against the Memphis Grizzlies on Friday, March 7. This game will be nationally televised on ESPN (and can be seen at www.WatchESPN.com). It will be quite intriguing to see how Hinrich matches up against Mike Conley, who plays point guard for the Grizzlies, and this should be an exciting matchup between two teams trying to establish playoff position. Finally, I will leave all of you with a recap of the first seventeen weeks. As always, if you have any comments or questions please write them below or send them to me on twitter: @SChasenKU.