The Greatness of Wilt Chamberlain
Wilt Chamberlain: KU's G.O.A.T
Wilt Chamberlain is one of the NBA's most iconic figures. His legacy continues to live on as many NBA historians and athletes recall the dominance of Chamberlain's career. Whenever discussions come up about the greatest players (or centers) of all-time, Chamberlain belongs in the mix. No one will ever replicate the sheer power, dominance and records of Chamberlain's mighty career. However, many people focus on Chamberlain's NBA career statistics like scoring 100 points in a game, often overlooking his dominant college career at Kansas.
[su_pullquote align="right"]"Kansas is something I'll always be proud to be a part of. And by having my jersey hanging there, I'll always be a part of the history of Kansas basketball."[/su_pullquote]
Choosing Kansas
Some say the biggest reason Chamberlain chose Kansas was because he admired coach Phog Allen. However, after 50 years of coaching, Allen retired shortly after Chamberlain's arrival. Many historians look back and wonder if Chamberlain would have chosen Kansas if he knew that Allen was going to retire, leaving Dick Harp as his successor.
Freshman Year
Chamberlain arrived at Kansas in 1955 and the entire university was excited for his on-court debut after he garnered attention with his dominant play in high school. Chamberlain joined the Kansas freshman team (per college regulations at that time) and his debut game against Kansas' varsity squad was superb. Chamberlain scored 42 points with 29 rebounds and 4 blocks, dominating the game and putting the upperclassmen on notice. However, the rest of his freshman year was unremarkable.
Sophomore Year
Prior to the season, the NCAA changed rules that impacted the way Chamberlain could use his physical attributes. They eliminated offensive goaltending and made it so players had to stay behind the free throw line during foul shots.
In December of 1956, Chamberlain joined the varsity team and set records with 52 points and 31 rebounds in his first game, and his performance grabbed headlines. Not only was his power on display, but Chamberlain also showed off his impressive athleticism in a big way. His basketball dominance overshadowed his Track and Field accomplishments, as Chamberlain also found success at the high jump, shot put and triple jump. He would go on to win the high jump three straight years in the Big Eight conference.
Back in basketball, Chamberlain led the team to the NCAA Championship game where they lost in overtime 54-53 to North Carolina. He averaged 29.6 points and 18.9 rebounds per game as a sophomore and was an All-American.
Junior Year
Chamberlain led the Jayhawks to a 18-5 record for the 1957-58 season. Despite other teams often guarding him with three players and holding the ball on offense for obscene amounts of time to prevent Kansas from getting the ball, Chamberlain finished the season averaging 30.1 points and 17.5 rebounds per game. He was also named as an All-American for the second consecutive season. Unfortunately, by the end of the year, Chamberlain had grown tired of the college life at Kansas and was ready to move to the professional game.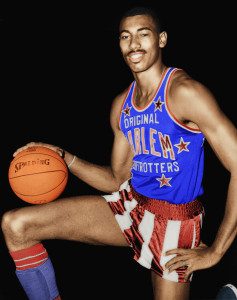 Leaving Kansas
Despite his historic success at Kansas, Chamberlain decided to leave college after his junior year. Over the years, critics hypothesized that Chamberlain couldn't stand the segregated Midwest culture, wasn't capable of winning a college title or placed a desire to make money playing basketball over the pursuit of collegiate greatness.
Because he left college early, Chamberlain was not eligible to play in the NBA. At the time, the league wouldn't allow college-aged players in the NBA until their college class graduated. So, Chamberlain signed with the Harlem Globetrotters and played with the historic traveling team for one season.
In 1959, Chamberlain made his debut in the NBA with the Philadelphia Warriors. And the rest as they say, is history.
Return to Kansas
In February 1998, Chamberlain returned to campus in an official Jayhawks capacity for the first time since he left school in 1958. He had finally agreed with the university to retire his #13 jersey.
Many critics speculated that Chaimberlain harbored ill feelings toward how he was treated at Kansas based on his race, but he spoke highly of Kansas according to Cjonline.com:
"Kansas is something I'll always be proud to be a part of. And by having my jersey hanging there, I'll always be a part of the history of Kansas basketball."
Just a year and a half later, on October 12, 1999, Wilt Chamberlain died from congestive heart failure at the age of 63. The University, his family and all of his fans got to have that special moment before time ran out on the life of an amazing athlete and the greatest player in the history of Kansas sports.
In collaboration with VK Media.