@KUBoobs Ordered To Shut Down
Earlier this evening, @KUBoobs tweeted they received a cease and desist letter from the Collegiate Licensing Company for violations of trademarks from the University of Kansas, and they would be shutting down.
KU Boobs has been ordered to cease and desist by The University of Kansas by June 12, 2013.

— KU Boobs (@KUboobs) June 11, 2013
The Twitter account tweets out pictures of women's chests, usually with something KU-related in the picture.
Additionally, they sold $5 wristbands that say "I <3 KU Boobs." The proceeds were used for breast cancer research.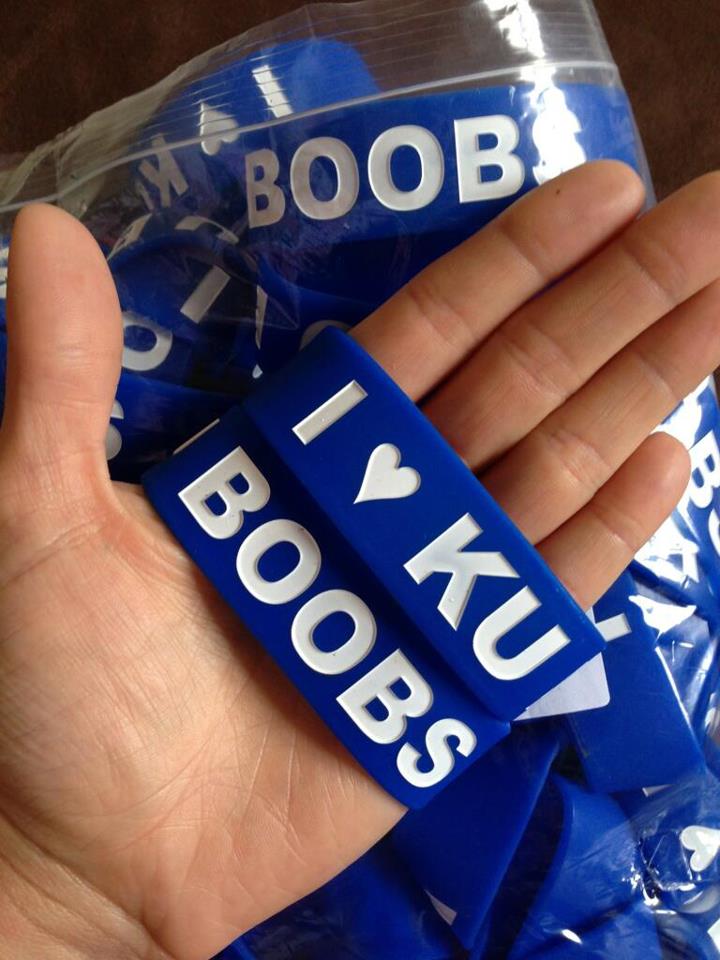 A dollar from each wristband went to breast cancer research while it cost them about a dollar to make it. There wasn't really a profit being made from the wristbands because of manufacturing cost and shipping. @KUboobs said that they want everyone to know that the money is going to research.
Jim Marchiony, Associate Director of Public Affairs with KU Athletics, told Fox 4 that is where the problem lies:
"We're not trying to shut @KUBoobs down. It's one thing to have a Twitter account. It's another thing to sell items with 'KU' on it, which is what they're doing," said Jim Marchiony, Associate Director of Public Affairs with KU Athletics. "That's our federal trademark, which we always have to protect."
This isn't the first time the University of Kansas has gone after a company for licensing. In 2010, Kansas Athletics settled a lawsuit with local t-shirt company, Joe-College.com.
As of Monday night, @KUboobs has 50,000 followers. The only other KU-specific Twitter account with more followers is @KUAthletics (over 68,000 followers). @KUHoops has 48,000, @KUNews has 25,000, @KUSports has 27,000.
KUBoobs.com is currently down and will not be back up. @KUboobs said that the Twitter and Facebook can still remain up, as far as they know, but they have to change their descriptions and messages to show that they're not associated with Kansas Athletics or the University of Kansas. However, they are considering shutting the @KUBoobs Twitter account down for forever.
Below is the cease and desist letter received by @KUBoobs: